Mophie Juice Pack Plus for iPhone 4 and 4S now available at Apple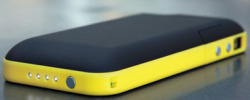 The iPhone is a great smartphone, but the battery is definitely lacking in heavier usage scenarios. It's sealed into the chassis too, so you're pretty much stuck if you run out of juice in the middle of the day without a charger to hand. Mophie has been making battery cases to remedy such situations for a time, with its latest Juice Pack Plus model now available for the iPhone 4 and 4S at Apple, in retails stores as well as online.
The battery pack, which doubles as a case for the phone, features a 2,000mAh battery that should provide up to 8 hours additional talk time using 3G, 7 hours of browsing, 44 hours of audio playback, and 11 hours of video playback. The top and bottom caps come with a "snap" design so you can easily access the 30-pin dock connector, although there's a pass-through USB cable included so you don't have to remove the phone from the case.
On top of that, there's a standy and charging switch so you can choose when to utilize the extra power, and the 4 LEDs will indicate how much power is remaining in the case. What about added thickness? The case itself is 0.71-inches thick, and weighs 2.5 ounces, but that's better than lugging around a charger or additional external battery pack.
Starting from today the case is now available at Apple's retail stores in addition to the online store, or you can pick it up from Mophie's own store. Whatever you choose, expect to pay around $99.95.