Mophie Juice Pack Battery Case for Google Pixel XL now available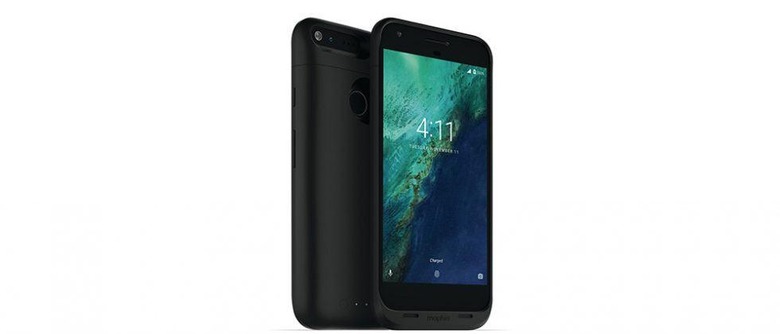 Mophie has announced the launch of a new Juice Pack Battery Case for the larger of Google's two somewhat new smartphones, the Pixel XL. This case, as with ones before it, offers both protection and extended battery life via an integrated battery that piggybacks off the phone's own internal battery. The end result, according to mophie, is battery life (read: talk time) that tops out at 50 hours per charge.
Mophie has introduced its Juice Pack Battery Case for a variety of smartphones, including Samsung's latest Galaxy S8 flagship handsets. Why it took so long to release this product for the Pixel XL phone is unclear and, at this point, it doesn't really matter: it is available now through mophie's own website and Verizon stores for $99.95 USD.
This latest Juice Pack battery case features a built-in 2950mAh battery that can be charged using a Qi and similar wireless charging system, though there's also a USB-C port for charging more quickly when possible. The case supports fast charging at 15watts, according to mophie. Likewise, this case offers what mophie calls Priority+ charging, which has the phone charge first followed by the case's own battery.
As far as the case itself goes, mophie says the Pixel XL Juice Pack features raised corners that help protect the screen from being cracked and/or scratched, as well as a low-profile design and internal rubberized support pads. These pads help cushion the phone against drops and 'hard falls.' Finally, the case also has forward-facing ports for the phone's speakers and an LED power indicator light.
SOURCE: PRNewswire