Mophie iPhone 7 Juice Pack Air adds wireless charging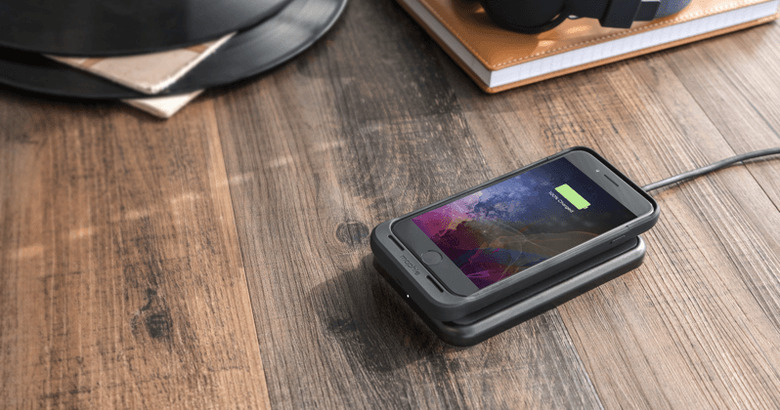 Mophie has introduced a new set of Juice Pack Air battery cases for the iPhone 7 and iPhone 7 Plus. As with all Mophie cases, these exist to extend the battery life of your phone, but Mophie has also outfitted them with a few extra features. Chief among these new features will likely be wireless charging for most people.
Some of the iPhone faithful were hoping to see wireless charging in the iPhone 7 and 7 Plus, but alas, it was not meant to be. That could all change assuming you pick up one of these Juice Pack Airs, which are compatible with Qi wireless charging platforms. They can also be magnetically aligned with any of Mophie's charge force accessories, which further takes some hassle out of wireless charging.
If you pick up the Juice Pack Air for the standard iPhone 7, you're looking at an additional 2,525 mAh battery, good for what Mophie estimates is 27 total hours of talk time when combined your phone's built-in battery. The battery in the Juice Pack Air for the iPhone 7 Plus is slightly smaller, weighing in at 2,420 mAh, but good for an estimated combined total of 33 hours of talk time.
As with all talk time estimates, you mileage will almost certainly vary, so keep that in mind. These cases also use Mophie's Priority+ charging, which allows you to charge your phone's battery without having to remove the case. As the name implies, this will give priority to your phone's battery before the case is charged.
All in all, these Juice Pack Air cases don't see too bad, especially if you were hoping for Apple to roll out wireless charging with the iPhone 7. Get ready to shell out some cash if you'd like to pick one up, though, as they come with a price tag of $99.95. Both varieties come in black, gold, rose gold, navy blue, and one variant that supports the (RED) charity, and are available now through Mophie's website.