Mopar modded Dodge and Chrysler vehicles at 2012 Chicago Auto Show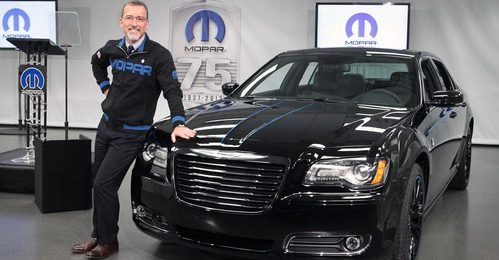 The 2012 Chicago Auto Show is running right now and at the show, Mopar is showing some modified Dodge and Chrysler vehicles, including the Chrysler 300, a new Dodge Dart, and a special Mopar Jeep Compass. All three of the cool vehicles are modified using factory Mopar parts. There is also a Fiat dubbed the Stinger at the show.
First off, is the Mopar 2012 300 that takes the Chrysler 300 sedan and makes it over into a performance sedan to celebrate the 75th anniversary of Mopar. Under the hood of the car, the 363hp 5.7L hemi V-8 engine has fuel saver technology that turns off four of the cylinders when not needed. The car also has a different rear differential with a 3.91 gear ratio for better acceleration that allows the car hit 60 mph in the low 5-second range. The car also has improved suspension, stickier tires, and special performance brakes. Other features include special wheels and a special interior with Mopar blue stitching. At the show, Dodge has its Dart GTS 210 tribute car on display as well.
The car wears a stage 1 appearance package that adds matte black trim pieces such as a lower chin spoiler, side sills, rear spoiler, and rear diffuser panel. The car also has a carbon fiber hood, and special 18-inch wheels. Inside, the car gets a special leather interior and special trim pieces. The car also has a stage II performance package with a special engine calibration and a better flowing intake along with the low backpressure exhaust system allowing for increased horsepower to 210hp compared to 184hp of the stock car. The Fiat 500 Stinger has special body parts to make the car look more athletic and sporty along with a special leather interior. The car also gets more power via a special Mopar intake and has special track ready brakes.
The final vehicle is the 2012 Mopar Jeep Compass dubbed the True North edition. The Jeep has matte black parts including the wheels, roof, wheel flares, lower fascia, door cladding, and grill. They grill also has body color inserts. The Jeep also gets a 16 inch set of alloy wheels with special all-terrain tires and a 2-inch body lift for sporty off-road look. Mopar also equips vehicle any Kicker audio system.