Moon "different dimension vehicle" has wing-shaped turning signals, dual on-board motors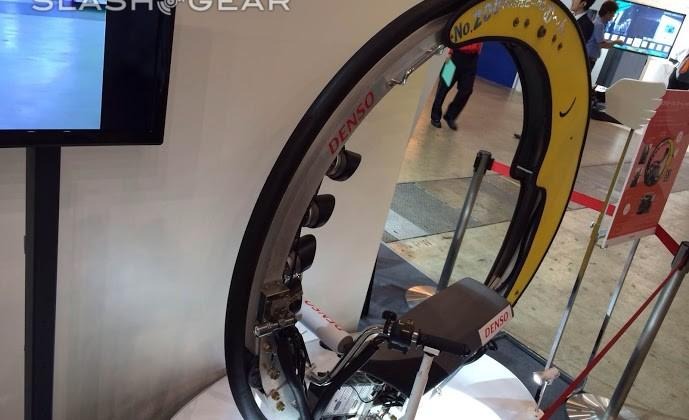 CEATEC 2013 has presented quite a bit of interesting technology, including Pioneer's Smart Car Cockpit Concept that we detailed earlier. Perhaps the most interesting thus far, however, has been the Moon, a circular transportation-esque device that is spherical in shape, all of which is rounded out by a pair of white wings on the "back" that function as turn signals.
Being called a "different dimension vehicle," the Moon was developed as part of a company competition, going on to take first place and a spot on the demonstration floor. The Moon utilizes a single "tire" that has a diameter of 1500mm, which works out to a bit under 5-feet. Along the outer back portion is a yellow moon with a gentle face, all of which is framed by two white "wings".
The wings function as turn signals, allowing the driver to notify others of upcoming turns. Among other things, the Moon is equipped with gyro sensors, which help in keeping the device upright and allows turning to be accomplished by leaning to the right and to the left. As mentioned, there are two on-board motors, one that is responsible for acceleration, and one that is used for balance.
There is a fully automatic gravity system in place to also help keep the Moon from flopping onto its side. Under the seat, there's the main system relay, as well as a micro-computer board, the motor driver, sensors (both gyro and geomagnetic), as well as the acceleration system. In front of the scooter-like seat are a couple of monitors, allowing for system monitoring.