Monument Is A Personal Photo Storage And Organization Box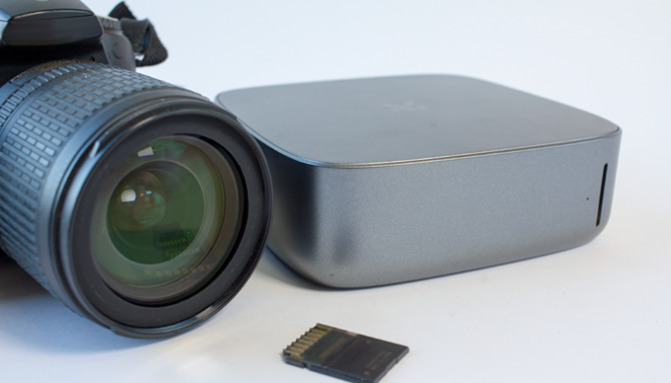 If you take bunch of photos and videos, you may find current storing options lacking. You can upload content online, of course, but not everyone enjoys using online cloud services, and there's the monthly subscription issue...something typically required if you have thousands of photos and want to upload them in their original, full resolution. Enter Monument, a small box that works as a personal storage solution for storing and organizing content.
Monument resembles any number of set-top-boxes on the market, and it features flexible internal storage — users can slide in a drive or two, depending on how much storage space they need. Photos can be imported directly from an SD card, and can be set to sync automatically over WiFi from one's smartphone.
Both an Android and an iOS app are available; they can also be used to remotely sync content to Monument if you're, for example, out on vacation and want to make sure nothing is lost. The device also allows for organization, using advanced artificial intelligence, according to the company, to organize photos and videos as they come in. Organization includes by time and date, faces, what camera was used, and where the images were taken.
Monument Labs, the company behind the device, is seeking funding on Kickstarter where it so far raised nearly half a million dollars, far eclipsing its $60,000 goal. The campaign only has three days left, but during that time there's the option to back Monument for $109 USD, nearly half the planned $209 USD retail price. Shipping is estimated to start this upcoming September.
SOURCE: Kickstarter