Montblanc's e-Strap will make luxury watches smarter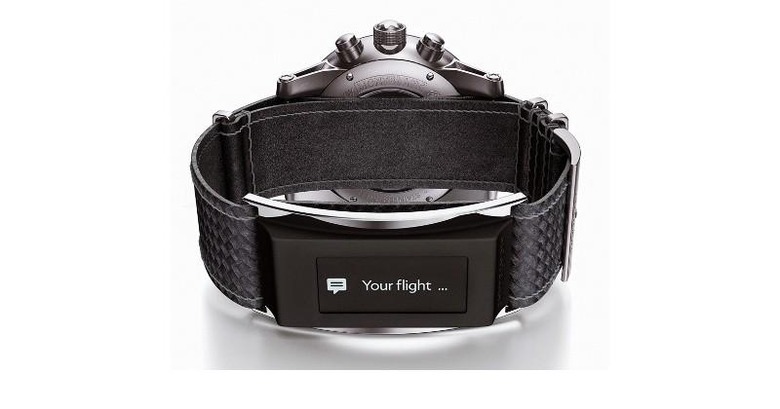 To smartwatch or not to smartwatch, that is the question. Especially when it comes to watch lovers who aren't too keen on switching away from their exquisitely designed timepieces just for the sake of receiving notifications or controlling their smartphones from their wrists. Luxury goods maker Montblanc has one compromise up its sleeves, almost literally. Part of its new Timewalker Urban Speed collection is the e-Strap, an optional watch strap that almost inconspicuously hides an electronic module at the bottom, giving you the best of both worlds, almost.
The strap itself is just as luxurious as the timepiece it attaches to, made from what Montblanc terms as "Extreme Montblanc Leather", a leather strap with a carbon fiber texture. The module itself is DLC-coated (Diamond-Like Carbon), in steel or gray steel color options. The strap should fit with any 42 or 43 mm wide Timewalker piece or any other watch that can fit it, though of course Montblanc would prefer you to use or even buy one of the new Urban Speed watches. The module itself measures 40 mm x 14.2 mm x 9 mm, which makes it rather thick and feel and look like a lump underneath your wrist.
Compared to full-fledged smartwatches, the e-Strap's module might look a bit bland, with only a monochrome OLED touchscreen with a 128x36 pixel resolution. That said, that might just be enough to give users what they want without having to sacrifice their beloved analog watch. In terms of functionality, though, the e-Strap is pretty much on par. Aside from your usual notifications, which deliver both visual and vibration alerts, the e-Strap also lets users control certain aspects of their smartphones, particularly media playback and camera. The module is also shock and splash proof, not waterproof, which is a necessity given its rather unconventional location. It also has a pedometer for motion and activity tracking that gets communicated to the accompanying Android or iPhone app.
Will the Montblanc e-Strap convert smartwatch non-believers? Perhaps it could if not for the price tag attached. The e-Strap comes with the Timewalker Urban Speed Chronograph with a base Swiss ETA Valjoux 7750 automatic movement (4,690 EUR), or the Timewalker Urban Speed UTC (3,990 EUR), or the Timewalker Urban Speed Automatic (2,990 EUR). But it can also be purchased separately for 250 EUR, which is mighty expensive for a smart wristband but is also mighty cheap for a luxury item.
VIA: