Monster unveils Diddy Beats earphones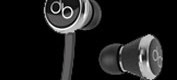 Monster has been making high-end cables and headphones for a long time and makes a line of high-end headphones in cooperation with rapper Dr. Dre that have been on the market for a while called Beats by Dr. Dre. Monster announced at CES that it would be expanding its Beats line.
One of the new headphone offerings in the line is the Diddy Beats earphones made in cooperation with Sean Diddy Combs. The new headphones will sell for $179.95 when they debut and can be pre-ordered now.
The headphones promise deep bass and are available with the Monster ControlTalk headphone cable. This allows the device to be used with the iPhone and iPod to control the music and to make hands free calls.