Monster Hunter World: Iceborne is getting a wacky Resident Evil crossover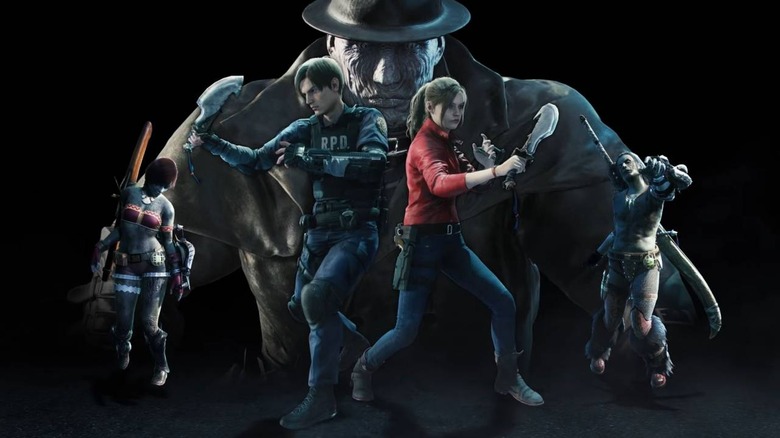 Monster Hunter World has already had a number of crossover events, but soon we'll be seeing what is unquestionably the most zany one yet. Capcom revealed today that Leon and Claire from the Resident Evil franchise are coming to Monster Hunter World: Iceborne, and while that's strange enough on its own, their appearance doesn't even begin to scratch the surface of how just how crazy this crossover is.
There's a lot to the trailer you see embedded below. Not only does it seem that Claire and Leon are wielding special weapons, but zombified monster hunters will also be in the game. In combat, you'll shamble around just as a typical zombie would, but it seems like you'll have the same combat effectiveness as a non-zombified hunter when it's time to get down to business.
The trailer gets even stranger beyond zombie monster hunters with the appearance of none other than Mr. X. The Tyrant is making an appearance in Monster Hunter World alongside Leon and Claire, but he doesn't seem to be appearing as an antagonist. Instead, it looks like Mr. X will actually be an alternative Handler, who serves as the player's teammate throughout the game.
There's even a special cameo at the end of the trailer that puts a nice, wacky bow on things, but we won't ruin it here. At the end of it, we're left sitting here in amazement that this Resident Evil crossover is going to be happening at all, especially given how lighthearted everything seems.
Capcom doesn't give a precise release date for the Resident Evil crossover, but it says the new content will be arriving sometime in November. Chances are that we'll be hearing more about it shortly, so we'll keep an eye out for additional information. In the meantime, spend a little bit of time with the trailer embedded above, because it strikes us as something that warrants multiple watches.