Monster Headphones Not Playing Well With Apple Devices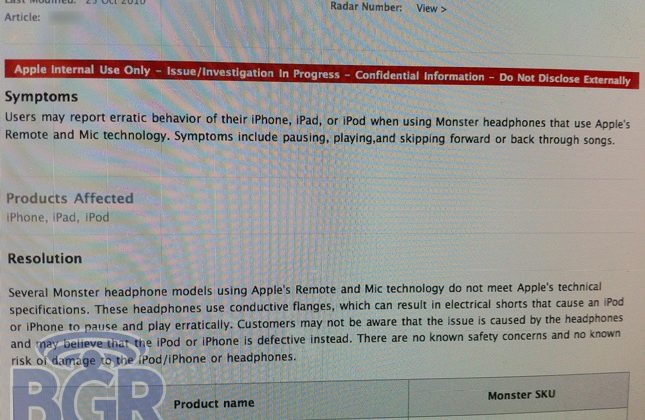 Not including the iPad, Apple includes a pair of in-ear headphones with your purchase of an iDevice. And for most people, those usually work well enough that they don't have to think about buying more headphones. But for those who want something different, and decided to go with a Monster-branded pair of 'phones, you may have been noticing that significantly distracting things have been happening to your music as of late. And it looks like Apple knows there is a problem, too.
An unnamed source has come forward to express that the Cupertino-based company does know that there's an issue with Monster-branded headphones, and Apple's mobile devices: the iPad, iPod line-up, and iPhone. Apple has confirmed that several Monster headphones are causing "erratic behavior," which includes random skips forward and back in songs, as well as randomly pausing and playing tracks.
Internally, Apple has confirmed that the headphones are making improper use of Apple's Remote and Mic technology. More accurately, the particular models "use conductive flanges, which can result in electrical shorts that cause an iPod or iPhone to pause and play erratically." Apple's internal documentation goes on to add that these particular headphone models "do not meet Apple's technical specifications." There's a full list of Monster headphones in the gallery below, but some models include: Turbine Pro, Jamz and Lil Jamz, and Turbine Basic.
[via Boy Genius Report]