Monster Digital unveils Daytona Series SSD drives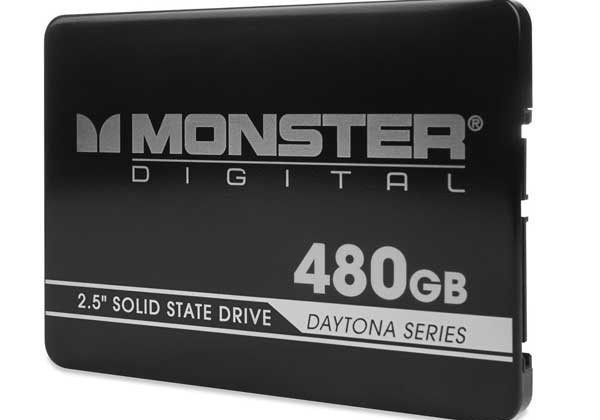 Monster is a company that is probably best known for very expensive cables for home theater and car audio systems. That's not all Monster has in its repertoire though. The company also has a line of audio product such as headphones that have proven to be very popular. You may or may not have heard of Monster Digital, which is the storage and memory card arm of Monster.
Monster Digital has announced a new solid-state drive aimed at laptops, ultrabooks, and desktop computers. The new SSDs have a 2.5-inch form factor and are called the Daytona Series. Monster Digital claims that the SSDs are rated at 550 MB/s read and 515 MB/s write speeds with 60k IOPS.
The company said that the drives are over provisioned for extended reliability as well. The SSDs are 7 mm thick making them universal fit and are packaged inside a stainless steel case. The Daytona series comes as bare drives with capacities of 90 GB, 120 GB, 240 GB, and 480 GB. Pricing for the drives is $99.99, $109.99, $229.99, and $479.99 respectively.
Three of the new Daytona Series SSDs are available in a DIY computer upgrade kit. The 120 GB, 240 GB, and 480 GB versions of the drive can be had with an Easy Installation Kit. This kit contains everything you need to upgrade a PC with the new SSD, including a SATA3/USB 3.0 adapter, 2.5-inch drive bay adapter, and a quick-start guide. The kit also comes with an installation video and a small screwdriver to round out everything you need to install the drive. The upgrade kits are priced at $134.99 for the 120 GB version, $234.99 for the 240 GB version, and $484.99 for the 480 GB version.