Moneaul MiNEW A10 nettop gets Hello Kitty treatment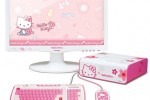 We saw the MiNEW A10 nettop back in May when it was clad in black and looking more manly than the new version that tipped up today. The version that we came across today is straight out of Hello Kitty hell with white, pink, and red gone awry.
The machine is overtly plastered with colorful flowers, and the notorious kitty, with the keyboard and LCD not missing out on the customization either. The keyboard gets the kitty face with pink, white, and red keys and the mouse has the Hello Kitty design on it as well.
This could be a great nettop for a little girl that likes flowers and pastel colors and such. The complete machine with the kittle emblazed all over it sells for about $443. Any adult who owns this thing will never reproduce, I'm just saying. Other than the color and design, the Hello kitty versions just like the original.