Mohu Leaf Glide HD indoor TV antenna has a 65-mile range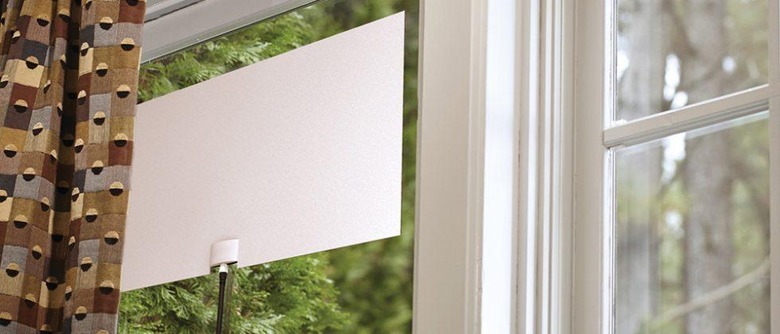 Mohu has announced a new indoor antenna product that enables users to pick up over-the-air television channels from nearby stations without mounting an antenna in their lawn or on the side of their house. The Mohu Leaf Glide supports high-definition channels and is attached to the inside of a window, resembling a large white piece of paper or vinyl. Once installed, and assuming it is placed in an adequate location, users should be able to pick up channels as far as 65 miles away.
Indoor antennas are notoriously less capable than outdoor antennas, the reasons usually being a combination of smaller size, walls, and less-than-ideal positioning. While a good outdoor antenna may be able to pick up OTA TV channels more than 100 miles away, indoor antennas are often far weaker, and in many cases someone may only get a few channels. The Leaf Glide aims to change that, offering the best of both worlds: a small indoor package and a long reception range.
The Leaf Glide from Mohu features 21.5- x 11.5-inches, double the width of the original Leaf model; it is reversible and omni-directional, and likewise described as being 'paper-thin.' A larger size makes for better reception, something complemented by SignaLift technology for grabbing more channels than before. Mohu says these include 'difficult-to-reach VHF' that many other indoor models aren't suitable for.
The antenna uses a Jolt amplifier to filter out both FM and cellular signals. Thanks to all of this, you can get up to a 65-mile range with optimized UHF and VHF reception. Leaf Glide includes a 16ft high-performance coaxial cable, as well as simplified installation via pins and 'hook & loop' tabs. The model is available now for $89.95 USD.
SOURCE: Mohu