"Modular" Fairphone 2 relaunched with removable slim covers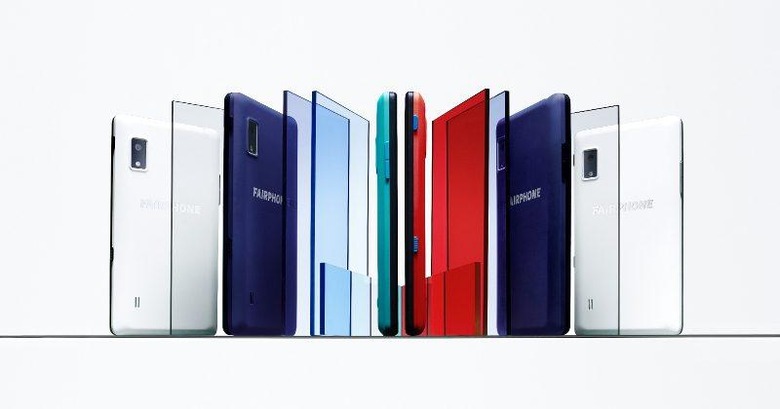 Project Ara perhaps embodied the ideal of a truly modular smartphone, but now that it's dead, the interpretation of what "modular" means is fair game. For LG, it means removing the bottom edge to plug in accessories. For Motorola, it's simply magnetically attaching a back cover. For the makers of Fairphone, however, it simply means being able to easily replace components when they're broken. Originally launched last year, the "easy to repair" Fairphone 2 is now getting a refresh with its first customizable part: a back cover.
Some might contest Fairphone's interpretation of "modular", but it has more practical uses. After all, no other smartphone ever got a perfect 10 from iFixit's teardown review, allowing users to remove and replace a broken screen in under a minute.
Of course, such a modular system is totally dependent on the replacement parts available. Fortunately, the Fairphone 2 does have those. What it didn't have, however, was a way for users to take advantage of that modularity to customize their devices. That changes today with the new Fairphone 2 and its replaceable covers.
It's almost amusing that Fairphone would "relaunch" a smartphone just to have customizable back covers, but the first batch didn't really have the necessary structure for that. Buyers could only choose between a regular black cover and a transparent one. With the refreshed batch, they can choose between Red, Indigo, Turquoise, and White.
Everything else about the smartphone is exactly the same, except that the back covers are now slimmer. And the price, which is now 525 EUR ($577). The new Fairphone 2's are still on pre-order, with no shipping date set.
If that isn't exciting enough, Fairphone does plan on selling components that are upgrades rather than direct replacement parts, and the camera will be the first in line for that.