Model 01 keyboard conforms to typists' needs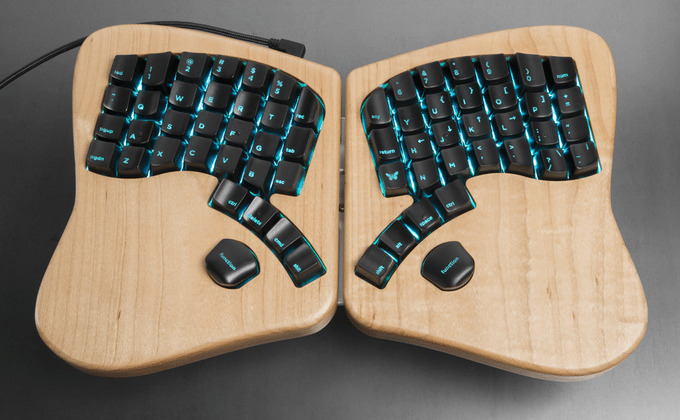 Those who do a lot of typing know the strain it can put on one's wrists over time. There are ergonomic alternatives to traditional straight keyboards, and they are commonly used, but not everyone finds them attractive. Model 01 is similar, but with a sleek, sophisticated design instead — it features two angled and curved keyboard halves nestled in shaped wood. It features mechanical switches, as well, for a mixture of modern and classic for a wholly unique way to type.
The Model 01 keyboard has 64 keys with mechanical switches nestled within two blocks of wood, with the arrangement being designed to work naturally with the position of our hands as we type — because they're curved, one does not need to hitch their hands at the wrist to angle them forward as with traditional keyboards.
The keyboard uses the QWERTY layout, but blank keycaps are also available for those who use a different layout. It also features a "Fn" key in the palm area so that they can be easily pressed with the thumb. The two wood blocks can be separated, tented, laid flat, and held up on a tripod for different positions, as well.
Keyboardio sought $120,000 USD on Kickstarter, where it has so far raised about $310,000 USD will 23 days remaining. Those who are interested can get a model for $299 USD, with backers being set to get the unit starting in April 2016.
SOURCE: Kickstarter