Mobile Billing Adds New Payment Option To PlayStation Store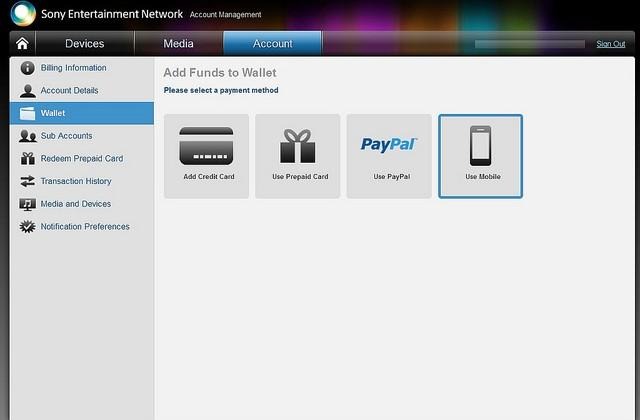 It's always nice to have multiple methods of paying for your digital entertainment such as games, movies, and DLC. Sony has announced a fourth payment option to add funds to the wallet to buy things on the PlayStation Store. The fourth payment option allows you to use your mobile phone to add purchases to your monthly phone bill.
The ability use a mobile phone to pay for content adds a fourth option alongside using a credit card, prepaid card, or PayPal. Using Mobile Billing, you can add the cost for video games, movies, TV show episodes, add-on content, and Music Unlimited subscriptions to your monthly phone bill. You would then pay your phone bill as usual at the end of the month.
Sony also notes that some PlayStation owners who use prepaid mobile phone accounts might be able to have content debited against their prepaid account. To pay via a mobile phone, all users have to do is select the Use Mobile option from the Add Funds to Wallet section within your PlayStation Store account. After entering your mobile phone number, users will have to respond via SMS to confirm the wallet charge.
It's worth noting that standard messaging rates will apply for the SMS confirmation messages. Sony also notes that the ability to charge content to your prepaid account may not work with all carriers. I can see this being useful feature for users who fear another data breach may put their credit card details at risk and don't use PayPal.
SOURCE: PlayStation.com