"M&M's" Most-Trended Search Term On Google During Super Bowl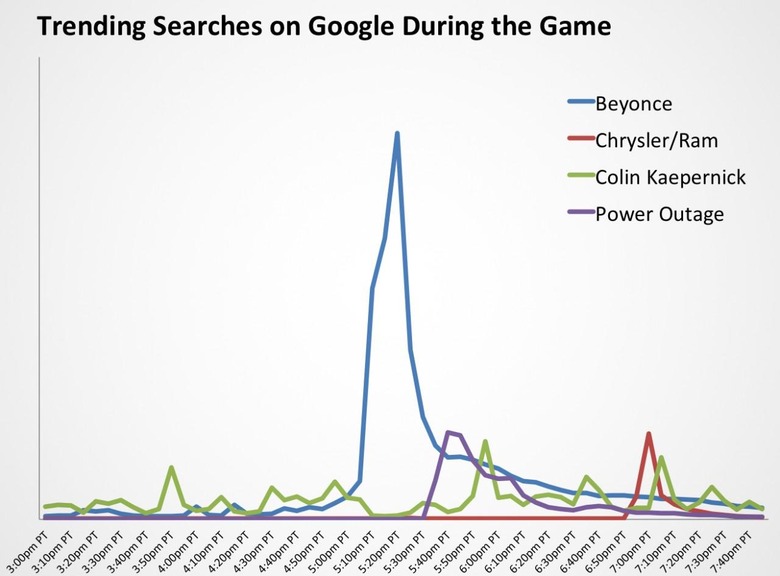 This year's Super Bowl seemed like it was all about the commercials and the halftime show, and it turns out that the top two trending search results on Google during the big game had something to do with both, at least in the US. "M&M's" topped the list at number one, while "Beyonce" came in at number two. Unsurprisingly, "Baltimore Ravens," "San Francisco 49ers," and "Colin Kaepernick" rounded out the top five.
Google doesn't tell us exactly what differentiates a trending search term over a most-searched term, but in any case, the most-searched term during the Super Bowl was "The Ravens." The team won this year's big game, narrowly beating the 49ers 34-31 in a nail-biter. As you can see in the chart above, Beyonce saw a huge spike in Google activity during halftime, absolutely soaring over every other search term.
As far as YouTube goes, the most-searched for commercials on the video streaming site were ads from M&M's, Mercedes-Benz, Disney's Oz the Great and Powerful, Lincoln, Audi, and "Gangnam Style." Of course, there was also a trend in YouTube searches for Beyonce, as well as Alicia Keys, who sang the National Anthem before the game.
Speaking of YouTube, Google mentioned how the platform was increasingly becoming more popular with advertisers when it comes to showing off their Super Bowl commercials before the big game. In total, Google says that Super Bowl commercials were watched more than 66 million times on YouTube before Super Bowl Sunday.