The MLB At Bat app has always been the go-to source for baseball fanatics while on the go. Currently, the app is only available for iOS and Android devices, but Major League Baseball has announced today that the app will also be heading to BlackBerry 10 sometime before the sport's Opening Day on March 31.
The league announced the news via Twitter, and linked to the MLB At Bat webpage on MLB.com. Unfortunately, the website doesn't mention anything about a BlackBerry 10 app, but we should definitely be hearing more about it sooner or later. Either way, pending BlackBerry 10 users will be able to enjoy the game through their new phone starting this spring.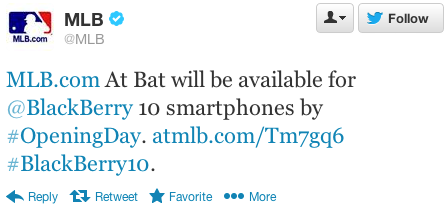 Currently, MLB At Bat has dedicated apps for the iPhone/iPod Touch, iPad, select Android smartphones and tablets, and the Kindle Fire. The app allows you to follow scores throughout the league, as well as keep up with standings and statistics of individual players. You can also watch games on your mobile device or listen to them with the radio feature.
Since Android devices were given the shaft early on, meaning that Android users couldn't stream live games right away, we're hoping that BlackBerry 10 users don't receive the same fate, although it's very possible it could happen — the MLB might not want to dive deep into BlackBerry 10 right away, and may hold off on some features for a little while, but only time will tell.