Mixer streamers can now make money from Xbox Game Pass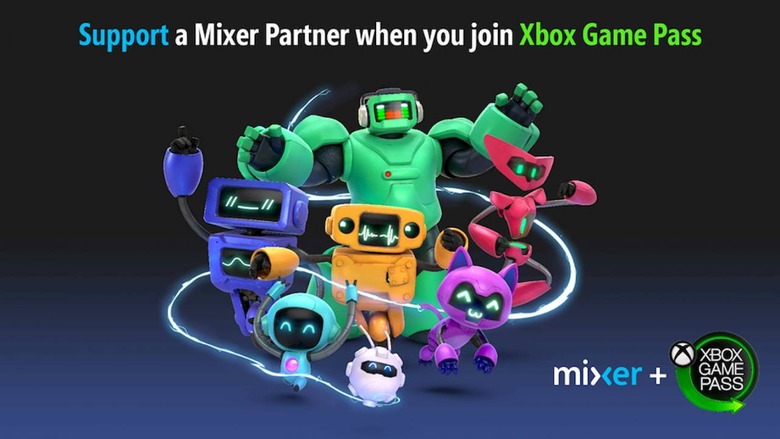 In recent weeks, Microsoft has been doing quite a bit to try to build out its streaming service, Mixer. The biggest move it made was paying Ninja an undisclosed-yet-almost-certainly-large amount of money to drop Twitch and begin streaming on Mixer full time. Now, the company is looking to get more money in the pockets of Mixer streamers, and it's using Xbox Game Pass subscriptions to do it.
In a new promotion, Microsoft will give a cut of Xbox Game Pass subscription fees to Mixer streamers, assuming that users enter codes designated to those streamers when they sign up. In that way, it's like the creator codes Epic Games allows players to enter when purchasing something from Fortnite's in-game shop. If you enter a creator code there, then a slice of your purchase goes to the creator that code belongs to.
Mixer already offers a similar program called Mixer Direct Purchase that allows streamers to earn money from game and DLC sales. With this new program, streamers will earn $3 for every viewer who signs up for Xbox Game Pass and uses their code at checkout. Unfortunately, that means you can't support streamers on an ongoing basis with your Game Pass subscription, but those who are joining Game Pass for the first time or upgrading to Xbox Game Pass Ultimate can support their favorite Mixer streamer with a bit of extra cash.
You got 30 days from the time you sign up for Game Pass or upgrade to Game Pass Ultimate to enter a code and net your streamer of choice a cool $3, so if you recently signed up, you didn't necessarily miss your chance to participate in this program. Microsoft has published a list of partnered streamers you can support through this program, which can be seen over on the Mixer website.
To enter a partner code, you'll either need to open the Xbox app on PC or the Xbox Game Pass app on iOS or Android. From there, open the menu and select "Support a creator," then enter one of the codes from the list linked above. Mixer certainly has an uphill battle if it wants to challenge the likes of Twitch for streaming dominance, but tempting streamers over to the platform through programs like this is certainly one way to gain some market share.