Mitsubishi WD500U-ST projector offers wide angle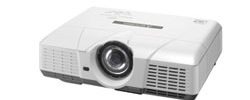 If you're looking for a projector and don't mind shelling out a good amount for one, then you might wish to consider the Mitsubishi WD500U-ST, which sports a seriously wide angle and has a significantly short throw.
This is an especially beneficial model for those working in a classroom or small office space, as it requires a very short distance between the projector and the screen. In fact, it only requires 28-inches in space from the projector and the screen to produce an image 50-inches in size.
This projector sports a brightness of 2100 lumens, a 16:10 aspect ratio and a 1280 x 800 resolution. You can expect to pay $1,695 for the Mitsubishi WD500U-ST, however, which is a significant chunk of change for most people. Though for a business, this probably won't be so bad.