Mitsubishi unveils a pair of new all electric racecars for 2013 Pikes Peak hill climb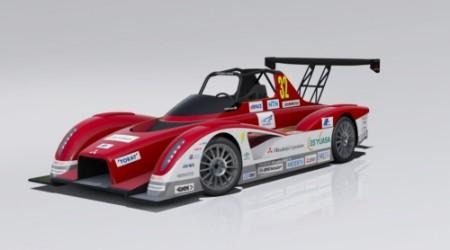 If you think about automotive racing, green probably doesn't come to mind. However, race teams are very keen on fuel efficiency and races are commonly won based on fuel economy alone. If one racecar can go more miles in the form of laps that another, they have to make less stops for fuel and therefore win more races. There are also a number of pure electric racecars out there that race various types of events.
One of the biggest races where electric vehicles play a significant role is the annual Pikes Peak International Hill Climb. The 2013 version of the race will be held on June 30, 2013 and Mitsubishi has announced that it will be fielding a pair of all electric four-wheel drive prototype racecars at the event. The racecars are called the MiEV Evolution II.
These electric racecars are quite strange looking. Whereas some racecars are incredibly beautiful, I don't think you can call Mitsubishi's electric racecars beautiful. Vehicles designed specifically for hill climb racing are often very odd looking with gigantic wings and lots of canards to provide more downforce. The Mitsubishi racecars are open cockpit designs with large rear wings and squared off tail sections.
The Pikes Peak International Hill Climb is held each year in Colorado Springs, Colorado. The race takes drivers up the 14,110 foot summit of Pikes Peak with racers covering an elevation of almost 4720 feet. This event is one of the longest running races in all of motorsports in the United States with the first run held in 1916.
The 2013 race will be the 91st running of the hill climb. Behind the wheel of Mitsubishi's all electric racecars will be Hiroshi Masuoka and Greg Tracy. The Mitsubishi electric racecar has four electric motors with two in the front and two in the rear providing a maximum output of 400 kW. The battery pack has a maximum capacity of 50kWh. The vehicle's make extensive use of lightweight technologies including a tube frame chassis and carbon fiber.
SOURCE: Mitsubishi