Mitsubishi Pico-portable XD95U is not Pico Projector for Mobile Devices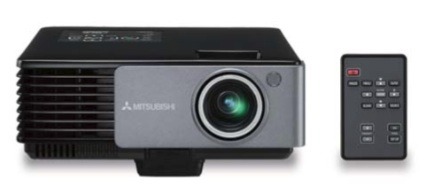 Mitsubishi has announced its latest DLP projector, a Pico-portable XD95U with quick cooling and filter-free designs for presenters on the go. Make no mistake; the Mitsubishi Pico-portable projector is not related to the palm-sized mobile Pico chipset projector built for handheld devices as we accustomed to, it is just another business class portable projector happens to carry the name of Pico.
Like most business class beamer, the compact 8x7.5-inch pico-portable projector boasts a XGA DLP 0.55" 1-Chip DMD panel with resolution of 1024x768. Despite its compact design, the Mits can project images with brightness up to 2200 ANSI lumen and 2000:1 on/off contrast. The lamp when operates in eco mode has 3000 hours of life expectancy.
Combine the off-and-go and filter-free functions, the low maintenance projector can cut down operating costs and user does not have to worry about the over-heating issues as it has the ability to cool the projector down quickly.
Mitsubishi XD95U has a suggested retail price of $1,495 and it's available this month.