MisterBrightLight smart desk adjusts with gesture control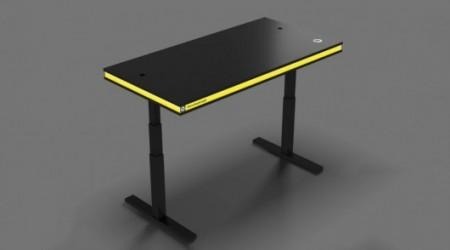 If your work day is spent sitting in front of a desk, you've likely given consideration to a standing desk. You can stand up and stretch a bit while still getting work done, but at some point you're going to want to sit back down. This means you'll either have to manually adjust your desk's height — if it isn't fixed — or you'll need to get a bar-height office chair...leaving you awkwardly towering above your coworkers. MisterBrightLight bids itself as a smart desk with the solution, and it comes in the form of gesture control.
MisterBrightLight is a modern-looking desk with glowing edges the user can adjust to fit their mood or decoration, or to indicate work status ('red' can be used to indicate you want to be left alone, for example). The smart functionality lies in its gesture control, however, with the user being able to adjust the desk's height by holding a hand over a sensor integrated into the surface.
To ensure the user doesn't lose track of time or give into lazy impulses, MisterBrightLight includes a related app that pings the user with a notification when it is time to stand up. That's when you hold your hand over the sensor and wait for the motors to lift it. To combat those impulses to ignore the notification and keep sitting, the app also tracks the calories burned by working while standing. The app, unfortunately, is only available for iOS at this point.
Rounding it out are some other notifications about optimal work conditions, such as when the desk decides it would be best to crack a window or when the humidity levels are less than optimal. For those with compatible devices, the desk also features an integrated wireless charger.
Price depends on which features the user selects, and starts at €1684/$2069 USD.
SOURCE: Gizmag