MisTable uses mist to create interactive 3D projection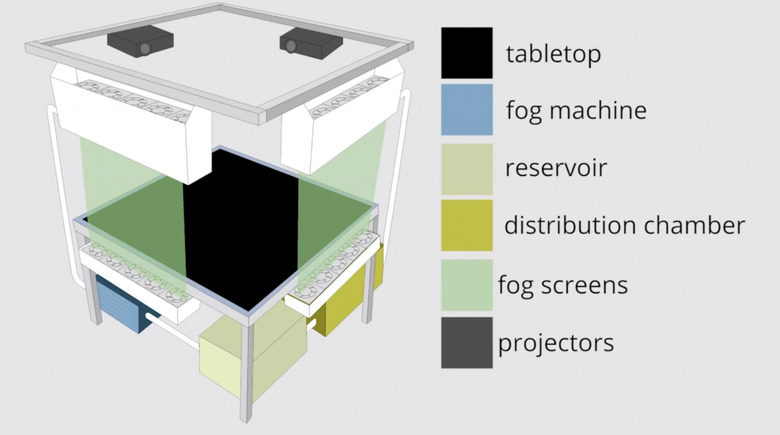 Who would have thought mist to be the key element that marries interaction to technology? Take a look at the innovative MisTable, the brainchild of Professor Sriram Subramanian and Dr Diego Martinez Plasencia from the University of Bristol's Department of Computer Science. The simple tabletop combines mist (or fog) with a conventional horizontal interactive system, giving life to 2D images and making them appear three-dimensional via simple manipulations.
As seen in the video below, a curtain of mist surrounds the tabletop and the 2D image of a table comes to life on it. Probing and prodding with his finger, the demonstrator goes on to move the image of a table from the mist to the tabletop. The visualisation is possible thanks to the use of personal screens that are both see-through and reach-through. The interaction possibilities include sharing content with another user, sharing personal content on the tabletop, 3D interaction of direct and indirect manipulation.
As explained by the researchers, the see-through aspect gives a direct line of sight of the personal screen, thus showcasing the elements behind it on the tabletop. With the reach-through aspect, the user can literally reach out to manipulate the object in the mist and thus switch the interaction from the personal screen to the tabletop or the empty space above it. Confused? Don't be, the video explains it all!
Apparently, the personal screen affords a host of customisations and unique interactions, which include presenting 2D personal contents on the screen and 3D contents above the tabletop. MisTable supports augmenting real objects and can provide depth perceptions of 3D visuals. The project will be presented at the ACM CHI 2014 conference this April, where it will be showcased as a device that supports new forms of interaction and collaboration for the future.
SOURCE: Univ of Bristol