Mimobots offer Star Wars Han Solo and Luke Skywalker Stormtrooper drives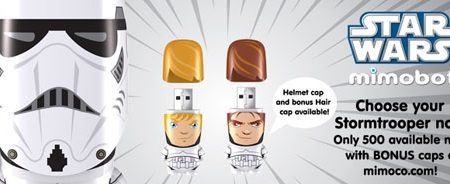 Remember that scene in the Star Wars flicks where Han and Luke take some Stormtrooper uniforms to get access to save Leia? Mimobots is celebrating the scenes with the duo dressed as Stormtroopers with a pair of new Mimobot flash drives.
The bots are offered with two lids. One of the lids is the Stormtrooper helmet and the other lid is hair allowing you to have the bots both ways. The extra hair cap is a limited edition item with only 500 of them available.
After those caps are gone, the drives will come with the helmet only. The drives come with digital content loaded onto them from the factory. A 4GB version is $44.95 and you can get capacities from 2GB to 16GB. The largest 16GB version is right at $100.