Mimo baby monitor onesie hands-on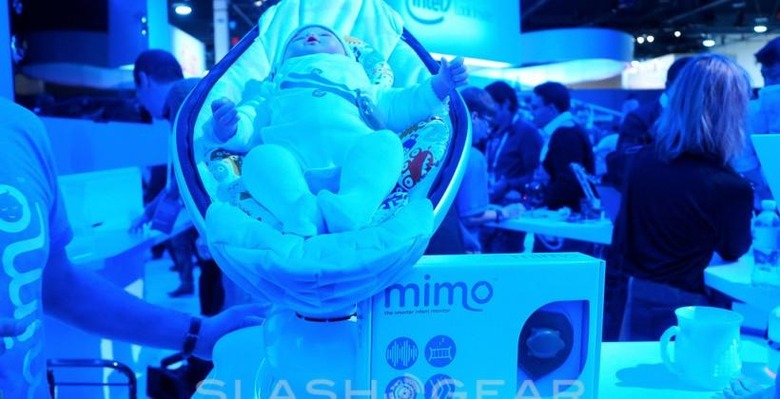 Rest Devices has been showing off the Mimo baby monitor here at CES 2014. While the baby monitor portion of the name may bring thoughts of a camera and screen setup allowing you to remotely look in on your sleeping child — the Rest Devices product is actually a wearable and as a result, it is able to offer quite a bit in terms of detail.
On a simple level, the Mimo baby monitor is a onesie with sensors. A bit more technical though, this setup is using the recently announced Intel Edison platform. The onesie is able to track key pieces of information such as the temperature and activity level as well as body position and breathing rate. While this is something the baby will be wearing, in theory it should also help the parent sleep a bit better as well.
Sitting in the image gallery just above is a bit of a closer look at the detachable clip, which is turtle shaped. The turtle is a sensor and tracks the temperature, activity and body position. Those stripes you see running across the onesie serves as the respiratory sensors. All of this information is then accessible from a mobile app, which Rest Devices has available for Android and iOS.
One of the key perks with the app is being able to see data in real-time. But there is more available here. You can also use the app to listen in live and program customizable alerts in case you were looking to be notified of something specific. The app also retains the information which means you can take a look back and spot any patterns or trends.
In addition to the wearable for the infant, this setup also includes a bottle warmer. The bottle warmer is also running on the Intel Edison platform and communicates with the onesie. One use here would be to have the bottle begin heating as the sensors on the onesie realize the baby is waking up.
While Rest Devices has been showing this off here at CES, it isn't available in stores just yet. There is an option to pre-order on their website, however it was said retail partner announcements would be coming soon. These should begin shipping in February and there is a starter pack available for $199.