Microsoft's Cheaper Surface Could Be Right Around The Corner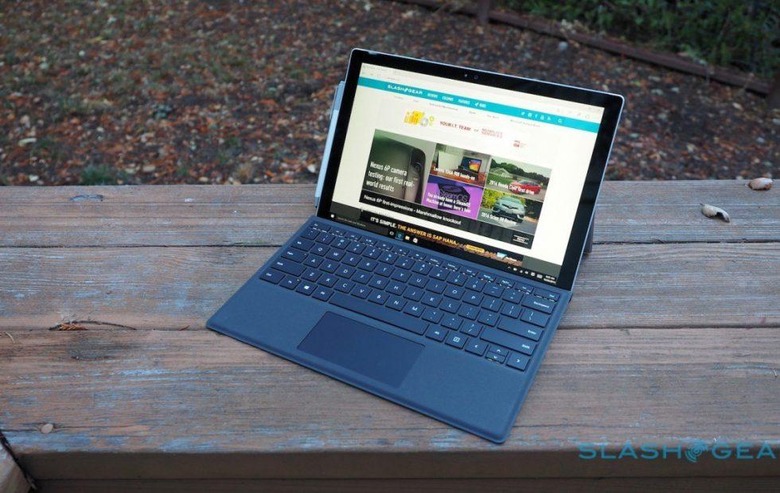 Evidence seems to be mounting for a new, less expensive Surface. Rumors have been swirling for a few months at this point, and now, it seems like we may be closing in on release. Not only did a mysterious Surface device recently make a pass through the FCC, but now Microsoft is possibly prepping retailers for a launch that could be coming up quickly.
Over the weekend, a Reddit user by the name of "UniversalACAdapter" (which is an excellent handle) posted something very interesting to a subreddit dedicated to Surface products. It's merely a two sentence long snippet of a document, but what it says essentially lets the cat out of the bag.
"New Microsoft Hardware Display and Type Cover set on Friday, 7/13. Adding Phantom to all stores," the document reads. Though it's short, it suggests that Microsoft will have in-store advertising ready for stores by Friday, July 13. These displays will be advertising a new Type Cover and new hardware from Microsoft, which went unnamed in this leak.
The Type Cover, of course, is the detachable keyboard for the Surface. It's a reasonable assumption, then, that this unnamed Microsoft hardware is indeed a new Surface device. It's been rumored that Microsoft wants to have this new Surface on shelves in time for the back-to-school rush, so a mid-summer release makes a lot of sense.
Elsewhere in the thread, a different Reddit poster named "aninsideman" published alleged specifications of this new Surface. That person claims that the new Surface will have a 10-inch display (which explains the need for a new Type Cover, as existing ones wouldn't fit it) outputting at 1800 x 1200 resolution. We also hear this smaller Surface will support both USB-C and microSD.
Interestingly, the new Surface will only start $400 – its long-rumored price point – but various configuration will make the price go up from there. The base model will have 4GB of RAM and 64GB of storage, with 8GB of RAM and 128GB of storage available as well. There will also be two LTE models available: one with 8GB RAM/128GB storage and another with 8GB RAM/256GB storage. Finally, we hear that the new Surface will offer up to a Pentium Gold processor from Intel, but more specific details weren't shared.
Obviously, we should take all of this with a hefty dose of skepticism. There was nothing accompanying the leaked document to suggest that it's legitimate, and a Reddit user sharing a list of specs isn't exactly a reliable source. Still, this isn't the first time we're hearing about some of these specifications, which does lend a little credibility to these claims. In any case, the date revealed in the leak means that we don't have long to wait until we find out if this is all true, so stay tuned.