Microsoft Zune HD 4.5 Update Available Now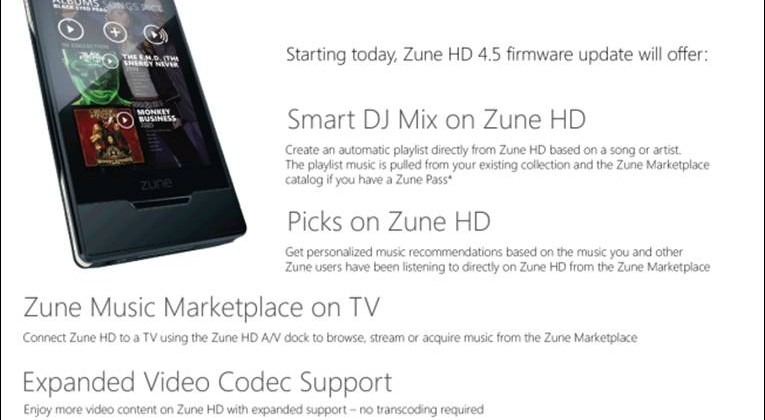 It's been a week, exactly, since we brought you the initial news regarding the next update to Microsoft's Personal Media Player (PMP), the Zune HD. And, sure enough, we've got a pretty big update in regards to the release of Zune HD's 4.5 software upgrade. It's out now. Yep, those non-firm details that Microsoft couldn't talk about must've been code for wanting to make us all surprised at how quickly they released it. Well, it worked. We're pretty excited. (We love updates.) And sure enough, it's adding all the goodies we mentioned before.
The update is bringing quite a few changes. First up, we've got a broader, more advanced Smart DJ. It's being upgraded on the Zune HD, so that if you're in the mood for one particular genre, you plug in a song, and the Zune HD will take care of the rest for you. Second, we've got Picks for Zune HD. This means that the next time you go into the Marketplace via your PMP, it will show you some of the most relevant picks of your music liking. It's a great way to find new bands, and keep your music selection up to date with new music. And then we have the Zune Marketplace on your TV. By connecting your PMP to the TV via the dock, you can now browse the Zune Marketplace from your TV in all that panoramic goodness.
And finally, Microsoft has expanded the video codec options for their Zune HD. And, just to sweeten the deal, there's no transcoding necessary. Oh, but wait, there's more! As a bonus gift, Microsoft wants everyone to know that the Zune HD 64GB model is also available for $349.99. But, that's still labeled as coming soon, so you'll have to wait a bit longer for that one.