With Christmas just around the corner, Microsoft has decided to bring back its Black Friday discounts for Xbox One consoles. That means all Xbox One bundles – including Xbox One X – will be $100 off for the duration of this promotion. If you've been on the lookout for Xbox One X discounts but didn't manage to secure one on Black Friday, it sounds like you're going to get a second shot at it.
The Xbox One X becomes particularly tempting with this discount, as it usually costs $500. It has the power to back that price tag up, but regardless of how capable the machine is, $500 is a lot for most people to spend. With these discounts in place, Xbox One X drops to $400 which, while still expensive, is likely a lot more palatable for many folks.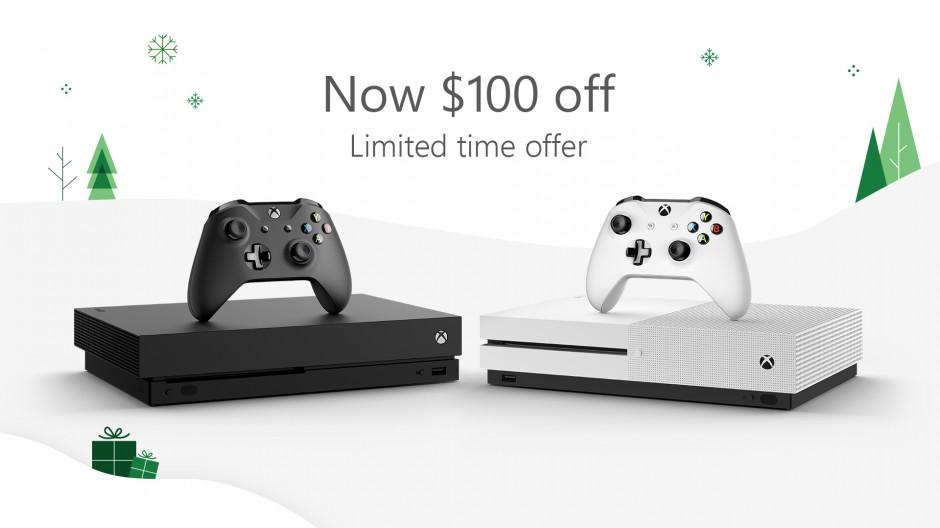 There definitely isn't a lack of choice when it comes to these bundles, either. The Xbox One S in particular has a ton of different console bundles, though some already appear to be selling out at places like Amazon. Still, Amazon has the Battlefield V Xbox One S bundle in stock for $199.99, while the NBA 2K19 and Fallout 76 Xbox One X bundles are both in stock for $399 as well.
If you're thinking that you might want to take advantage of these discounts, it's probably best to do so now rather than later. Though stock obviously varies from store to store, the fact that Amazon is seemingly sold out of Fortnite and Minecraft Creators bundles could very well be an indication that consoles are going to go quickly.
Microsoft doesn't say when this promotion will end, but we're guessing it'll probably wrap up shortly after Christmas Day. There's always a chance that Microsoft will keep it going until after New Year's Day to tempt those who received cash or gift cards for the holidays, but in either case, don't expect these bundles to be discounted for very long.
Disclosure: SlashGear uses affiliate links, If you click on a link in this article and buy something we'll get a small cut of the sale.