Microsoft Xbox 360 Elite Looks Like It May Become Super Soon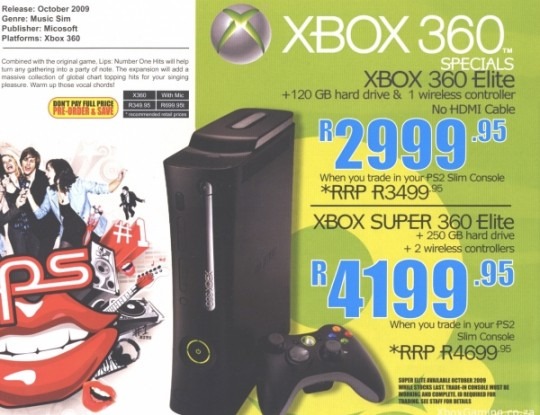 Remember that "new" console we saw yesterday? You know the one: it looks a lot like the current Xbox 360 Elite, except that it comes with a 250GB hard drive this time around; and in the box, we've supposedly got two controllers and a copy of Forza Motorsport 3. Remember now? Good. And, even if you thought it was a fake ad brought up by Amazon Germany to excite people for no reason whatsoever, it looks like we've got another ad to (perhaps) solidify the deal.
This time around, it comes from South Africa, where distributor Comztek informed gaming news site XboxGaming.co.za that a 250GB hard drive "Super Elite" would be ready for shelves in October. And, if that's not good enough for you, it looks like that same bundle we saw on the Amazon Germany site is headed to South Africa as well and will retail for about R4,999 (about $646). The flier pictured is from South African retailer BT Games, who is offering a R500 discount in line with the launch and a trade-in of your old slim PS2.
So, with two pieces of propaganda, and the words from a distributor, is this real? Should we start counting down the days until we can get our hands on a new (old) console, with an expansive new hard drive. Or are you more interested in that new, not-so-shiny PS3 Slim?
[via Joystiq]