Microsoft Wireless Comfort Keyboard 5000 for $80 Coming Later This Month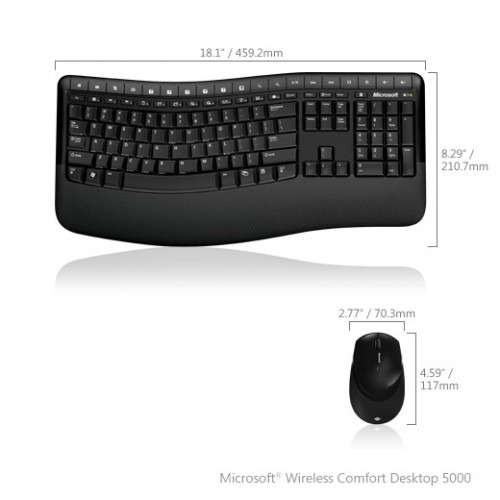 In an announcement made today by Microsoft Hardware, the Wireless Comfort Keyboard 5000 made its debut, touting Microsoft's BlueTrack technology and an ergonomic layout with a six-degree curvature that promotes natural wrist positioning, which should make all those long nights on the keyboard a little less painful.
While announcing the new addition to their lineup, Microsoft Hardware also mentioned that over 10 million Comfort Curve-designed products have been sold over the past five years. And while Microsoft Hardware released a more in-depth product description of the keyboard itself earlier in the month, this new release tells us that the keyboard will not be launched by itself, but also with the Microsoft Wireless Mouse 5000, a $40 value alone.  We can also see the dimensions of the keyboard and mouse in the image, as well as a small list of the features early-adopters should expect with their purchase.
The keyboard/mouse combination will launch later this month, and will go for a cool $80, and includes Microsoft's worldwide three-year limited hardware warranty.  With the features of the hardware, and the fact Microsoft is practically throwing in a free gift, this seems too good to pass up. Below is a break down of the standard features from Microsoft:
Ergonomist-approved Comfort Curve Design: Microsoft's Comfort Curve encourages natural wrist posture and is easy to use.
BlueTrack Technology: Microsoft's BlueTrack Technology combines the power of optical with the precision of laser for remarkable tracking on more surfaces.
Taskbar Favorites for Windows 7: Make everyday tasks easier with Taskbar Favorites for Windows 7. Save time and access most used applications with one touch.
2.4 GHz Reliable Wireless: Microsoft 2.4 GHz wireless delivers a reliable connection with up to a 30-foot range, with virtually no interference.
[via ArsTechnica]