Microsoft: Windows 8 to support Retina-like displays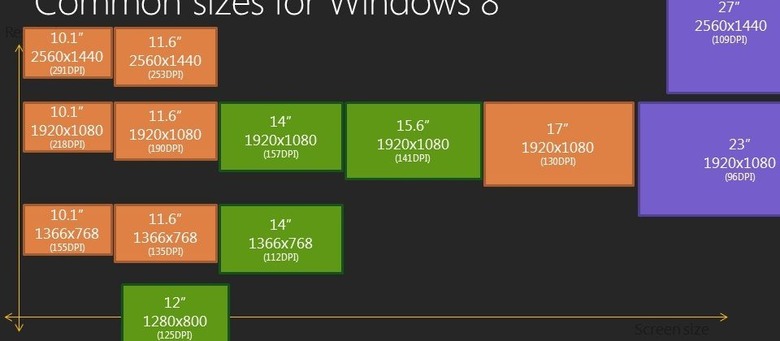 More and more mobile displays are moving towards a higher pixel density. Most notably the new iPad features its Retina display with a resolution of 2048x1536, and Asus unveiled an updated version of the Transformer Prime with a 1920x1200 resolution at MWC 2012. Having a higher resolution is great, but what making sure the UI remains sharp while being easy to touch on mobile devices?
Microsoft took to the "Building Windows 8" blog yesterday to outline how Windows 8 will handle the multitude of resolutions found across different tablets. Microsoft have designed UI elements and pixel density settings so that no scaling is applied to elements at the standard 1366x768 resolution. For an HD tablet (1920x1080), 140% scaling will be applied, and for quad-XGA tablets (2560x1440) then 180% scaling will be applied. In other words, you'll see the same amount of information on the screen regardless of pixel density, while the UI remains sharp and crisp.
Interestingly, Microsoft also posted an image detailed the common sizes and resolutions that you'll find with Windows 8. Featured in the image are 10.1 and 11.6-inch sizes, most notably with an extremely high resolution of 2560x1440. It's been rumored in the past that Samsung were working on their own Retina display for an 11.6" Android tablet with a resolution of 2560x1600.
When you take into the account the Retina display found on the new iPad, the recent Samsung rumor, and now Microsoft's image, then it's more than likely we'll be seeing even higher resolution panels making their way into Android and Windows 8 tablets in the future. As laid out in Microsoft's image, 2560x1440 on a 10.1" panel would beat the new iPad in pixel density, coming in at 291 PPI compared to 264 PPI.
[via Electronista]