Microsoft Windows 8 MileStones Schedule With September Beta Release?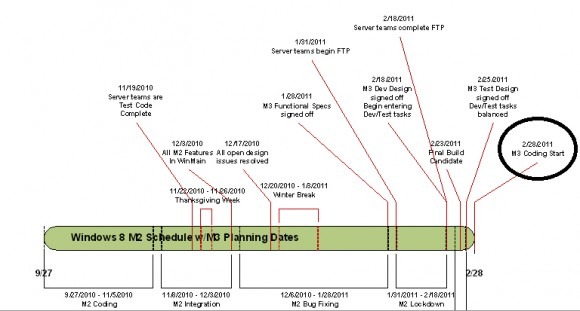 Microsoft Windows 8 seems to be moving along as various information leaked so far suggest a September beta release. The new OS will primarily target tablets with a more touch-aware interface and will support ARM processors. It may also focus on gaming and feature an adaptive 3D interface.
The folks over at WinRumors picked up information on Microsoft seeding its escrow build last Friday, an important development stage, suggesting a final Milestone 2 version was ready. They believe that this means a third milestone would start in March and finish by June with a beta soon after.
ZDNet on the other hand, got hold of a roadmap snippet showing the Windows 8 Milestone 2 schedule indicating February 23 for completion with February 28 for start of Milestone 3. A five month time frame is likely per milestone, with a beta version ready by September for Microsoft's Professional Developers Conference.
[via Electronista]