Microsoft Windows 7 Embedded Gets a Technical Preview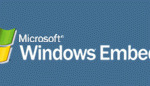 Microsoft is just full of announcements today, it seems. After announcing the street date for Windows Mobile 6.5, they've gone ahead and informed the world that a technical preview of their Windows 7 Embedded version has gone out for technical preview. And while this one may not be as user-friendly as the former announcement, at least not to the end-user, it's surprising just how embedded this really is.
Windows 7 Embedded 2011 is designed to run on everything from ATMs all the way down the spectrum to digital photo frames. And while it's available now for preview as a trial edition, the finished version isn't set to release until the second half of 2010. By allowing the trial, Microsoft is able to let businesses and developers the ability to put the software on their devices, use it, and then send feedback to Microsoft. It is also said that Windows Embedded 2011 will allow for the software to be installed in small doses, so only the necessary equipment is installed on devices.
The new edition will support 64-bit CPUs, the Windows Aero interface, and Windows Touch for touchscreens. Developers and businesses can also run the software, and check on it, from a virtual desktop as well, allowing for a lot more ease of use. It's looking like Microsoft is moving forward, and it's about time. Now, where's that Windows Mobile 7?
[via CNet]