Microsoft updates HoloLens as second wave ships to devs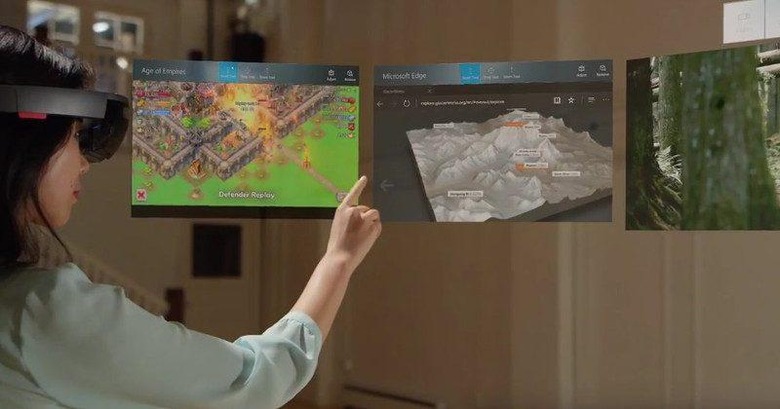 Virtual reality has recently taken the center stage, especially with the rollout of the HTC Vive and Oculus Rift. Not to mention the ditch that Oculus may have dug for itself. But VR isn't the only hot thing in tech today as far as synthetic realities go. There is also augmented, or rather "mixed", reality, as envisioned (no pun intended) by the likes of Microsoft HoloLens, Magic Leap and Meta. Of those, the HoloLens was the first to reach the public's hands, and now Microsoft is rolling out its first update as well.
Some of the updates might seem a bit minor, though also essential for a smoother experience. For example, new voice commands offer more convenient interactions with objects. It's easier to say "face me" to make a model turn towards you than to grab the model and rotate it manually yourself. The Edge browser inside HoloLens has also finally gotten tabs, which is really an essential feature in any modern browser this day, even inside virtual realms. Developers and users will also be able to pin photos with borders or UI interfaces, which can make for an impromptu art gallery. That only you can see, of course.
The other improvements are quite interesting from a computing point of view. HoloLens now lets up to three Universal Windows Platform (UWP) apps to run simultaneously, so you can keep on playing music in Groove while Edge remains open while you tell a robot model to keep turning in this or that direction. Input methods have also now embraced Bluetooth mice, which can be used in conjunction with the improved support for Bluetooth keyboards.
The latter improvements could go a long way into turning Mixed Reality into the future of computing, where instead of actual, physical monitors you have virtual windows superimposed on reality. Multi-tasking and mouse support puts HoloLens closer to current computing methods. It's not quite there yet, but it's one step closer.
Developers who haven't received their HoloLens won't have to drool over these far longer. At least if they're lucky enough to be in the second batch of shipments now going out. If luck isn't on their side, this video teaser will just have to do in the meantime.
SOURCE: Microsoft