Microsoft Unveils Third Windows Phone 7 Series Device: It's a Samsung [Update]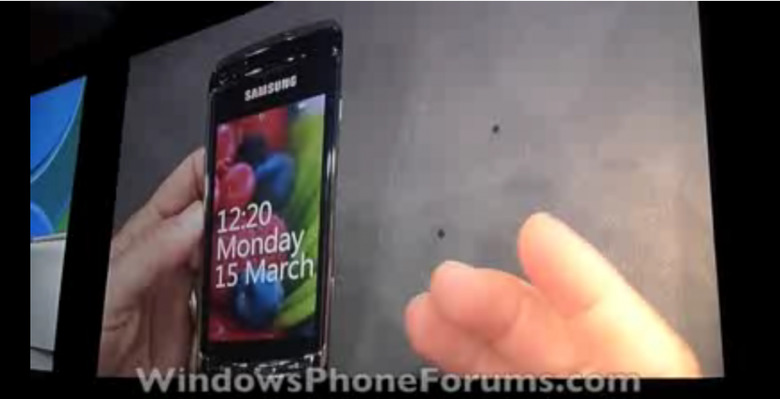 The hits just keep coming. After Microsoft's keynote about Windows Phone 7 Series and Silverlight during MIX10, Joe Belfiore decided to show off a little bit more. We were on the scene first-hand to check out the device, which makes this only the third device to be seen actually running Windows Phone 7 Series. So, what is it? It's a Samsung.
We weren't given that much time to look at the device, and we weren't able to actually touch or play with it, but from what they were showing off, it looks like Samsung is determined to offer a quality handset to the Windows Phone 7 Series line-up. Especially along side the two other manufacturers that Microsoft showcased on screen, ASUS and LG, Samsung is definitely in the game. While Microsoft wouldn't elaborate on any real details about the device itself, you can obviously see that the standard hardware keys are on the phone: Back, Start, and Search. Microsoft also pointed out that the Samsung device has a very bright screen (an AMOLED display, perhaps?), and then the camera. The Samsung will have a terrific camera, and considering how beefy it looks on the back of the phone, we are hoping that's very true.
It was also mentioned that the photo capabilities in Windows Phone 7 Series is something to be excited about, along with the fact that this Samsung device will play a part in that as well. With the hard work that Microsoft is putting into the minimum specifications for their hardware, we're not surprised that they also want to make sure that the images you take with your phone are just as good. After all, if you take a photo with a bad camera, what good is it looking at it on the phone?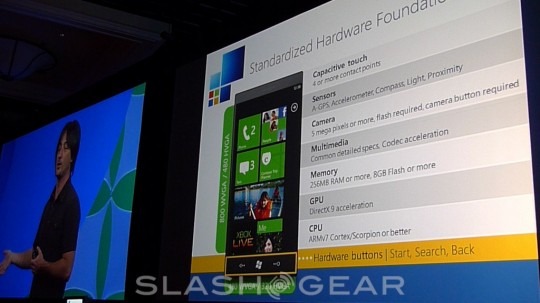 Belfiore also wanted to come clean on the minimum hardware specifications for their Windows Phone 7 Series devices, and it looks like they've covered all the bases. As we've heard before, all the devices need to have a capacitive touchscreen, with at least four contact points. In the sensors department, all the phones must have a-GPS, Accelerometer, Compass, Light, and Proximity. The cameras need to be at least 5MP, have a flash, and a hardware camera button. Memory has a minimum specification of 256MB RAM, and 8GB Flash. Keep in mind, those are the minimum specifications for their devices. The GPU needs to be DirectX 9, and the CPU needs to be a ARMv7 Cortex/Scorpion or better. Screens need to be at least HVGA, and have a resolution of 480x320. Again, these are the minimum specifications.
[Update:] That HVGA, and 480x320 resolutions specifications are coming out some time later. At the launch of Windows Phone 7 Series, Microsoft is making sure that all the devices are 800x480. And that's it. On top of that, all the devices will have the same amount of RAM available, as well as have the same capacitive touchscreen capabilities.
Basically, Microsoft is making sure that their software, Silverlight functionality, and the user experience is always in tip-top shape, and the only way to do that is by mandating the hardware that powers it. Microsoft wants you to love using your phone, and not worry about a process slowing you down. From what we can tell, they're doing a great job of that.
Want to discuss Windows Phone 7 Series? Head on over to Windows Phone Forums and join in on the discussion!
[update via Engadget]