Microsoft Surface to feature digital ink stylus support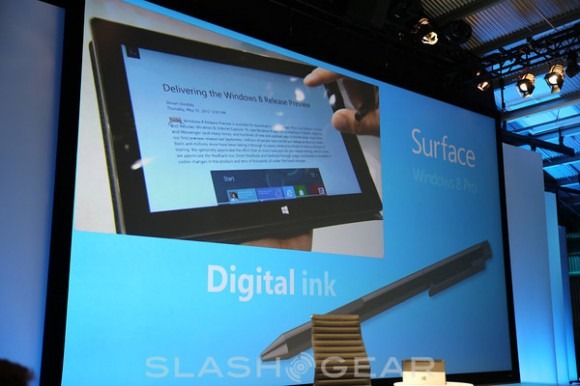 Microsoft has just taken the wraps off of their new tablet being called Microsoft Surface. Along with an impressively thin 9mm thin chassis, a built-in keyboard "smart case" and more they've also just shared a little bit about their plans with stylus support and digital ink. More details below from their event live.
Microsoft's new Surface actually features two digitizers instead of a single one like most tablets. At the event live they said it best by stating, "This surface has two digitizers. One for touch, one for digital ink." All stylus or pen input is converted into digital ink and the new Surface tablet is extremely responsive and accurate.
The distance between the screen (digitizer) and the stylus is only .7mm thick, and allows for it to be highly accurate, making you feel like the ballpoint of a pen is actually writing on the "surface". Surface will see the proximity of a stylus and stop recognizing hand inputs. We've seen this before with the HTC Flyer tablet only they had a special digitizer, not two. Then in a similar fashion as their new smart cover the stylus conveniently magnetizes to the magnesium body of the tablet for simple and easy storage. Hopefully we'll get hands-on with all the goodies so stay tuned for additional details live.