Microsoft Surface dumped by Patriots coach Bill Belichick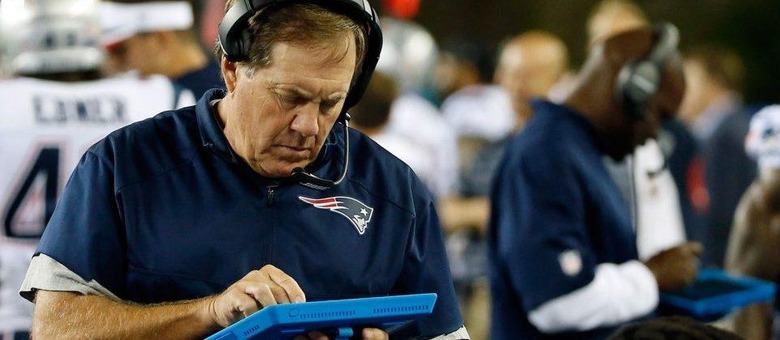 For all of its mobile division woes, Microsoft's line of Surface tablets has managed to attract its share of praise – unless we're talking about New England Patriots coach Bill Belichick. What was supposed to make the coach's job on the sidelines easier has only been a frustration for Belichick. Now, he says, he's done with the tablet and returning to the way things used to work.
Back in 2013, the NFL and Microsoft struck at deal that would ultimately put Surface tablets in the hands of coaches and analysts. Instances of malfunctions or tablets otherwise not working as expected have been in the news ever since then, and it appears that Belichick has had enough. In a press conference today, he spent a rather long time discussing why he doesn't like having to use the Surface on the sidelines.
Those tablets are there to allow coaches to view photos of previous plays, but Belichick says that they're not consistent enough for his liking. Zack Cox from NESN posted Belichick's entire rant on the tablets to his Twitter page, noting that the Patriots coach spent five minutes and 25 seconds explaining his disdain for them.
Belichick says that in his estimate, his team has to deal with something going wrong on the technology side every week. He also points to the reason why problems with the Surface tablets keep coming up. According to him, the coaching staff only gets these tablets a few hours before each game, while they're taken away at the end.
That doesn't seem like enough time to get acquainted with technology you'd rather not use in the first place. In fact, Belichick says it really isn't enough time for the Patriots' IT guy, Dan Famosi, to make sure everything is tested and working properly before the game. At the end of it all, when you could the headsets, battery packs, and tablets, there's just too much that can go wrong during a game.
So, it sounds like that's it. Belichick will ditch the tablet and go back to viewing photos the old way, using paper and printers. Whether other coaches will follow suit remains to be seen, but this is definitely something of a road bump for Microsoft's partnership with the NFL.
SOURCE: Zack Cox