Microsoft sending out free Xbox 360s to Live veterans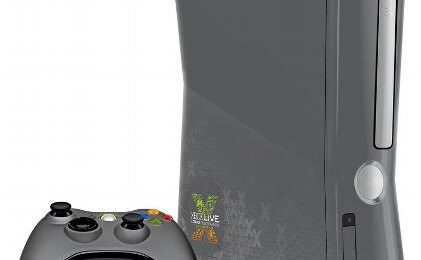 Some of us got our first introduction to Xbox Live through the Xbox 360, but Xbox Live was around long before the 360 was on store shelves. The online gaming service has been up and running since 2002, which means that it turns 10 years old this year. To put a finer point on that, Xbox Live will be turning 10 years old on November 15, and Microsoft has something special planned for some of the gamers who have been there since the start.
Microsoft will be sending out special edition Xbox 360 consoles to some of those who have held a subscription to Xbox Live these past 10 years. We first caught wind of these special Xbox 360s – one of which you can see pictured above – from Kotaku, which had a reader write in with an images of a console his friend received from Microsoft. The decorations and the box art for the console suggested that it was for Xbox Live's tenth anniversary, but at the time the mysterious console left everyone scratching their heads.
That all changed earlier this afternoon, when Xbox Live's Major Nelson confirmed that Microsoft is indeed sending out these special consoles to "members that have been with us the longest." Hyrb says in his tweet that only "some" of Xbox Live's earliest adopters will be getting this console in the mail, which means that you shouldn't necessarily expect one of these to show up just because you've been with Xbox Live from day one. Who's getting one and how Microsoft is determining that is unknown, so it looks like you'll just have to wait and see if you get one.
Even if you haven't been subscribed to Xbox Live for 10 years, you'll still have a chance to snag one of these special edition consoles. Hyrb said in a later tweet that he'll be sharing details on how to win one of these later on in the week, so keep your eyes peeled for that information. What do you think of these Xbox Live anniversary consoles? Do you want one?