Microsoft rumored to offer XBox Live, HDD bundle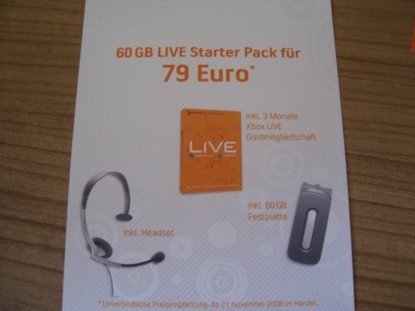 Microsoft reportedly has a gaming bundle prepared for European Xbox 360 players. The bundle features a hard drive, headset, and 3 months of Xbox 360 Live.
The rumor started with a flyer that started making its rounds on the internet yesterday. The flyer, which was supposedly sent to German Xbox Live Gold members indicates that the starter pack will be available in November for around 79 Euros.The starter pack is expected to include a 60GB hard drive, a wired headset, and then 3 months of Microsoft's Xbox Live service.
If the bundle turns out to be true, it will offer new users an exceptionally good deal. Currently a 120GB hard drive for the Xbox 360 runs around 129 Euros, the 79 Euro price tag for the bundle marks a pretty significant price drop by including the headset and Live access in the deal.
[via Xbox360Fanboy]