Microsoft rolls out updated Windows Phone App for Desktop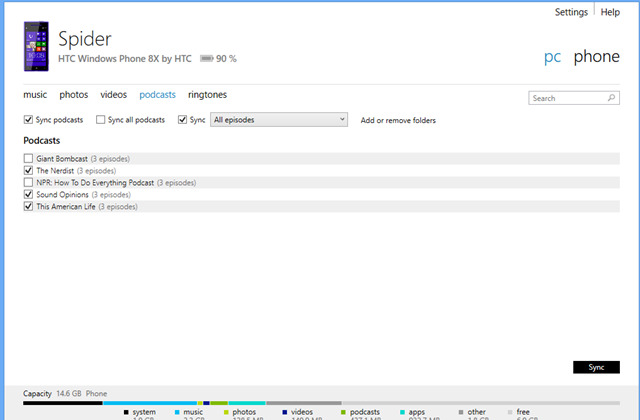 Most people alternative between using their smartphone and computer for doing various tasks, such as downloading media and taking images. As such, keeping files in sync between the smartphone and laptop is important, and also a bit time consuming if attempted to be done manually. Because of this, Microsoft created the Windows Phone App for Desktop, which allows Windows Phone users to sync media to a PC. Today that app was updated with improvements and expanded support.
Using the Windows Phone App for Desktop, users can sync media files, such as music and photographs, from a Windows Phone to a PC running Windows, keeping things organized and accessible across multiple devices. The desktop app has been around for a little over six months now, up until now having been available as a preview version. It is no longer in preview mode, and has been updated across a few spectrums.
Included in the update, which is available for download now, is expanded support for podcasts, in particular support for podcasts beyond iTunes podcasts, which has been a feature in previous preview versions of the desktop app. Now podcast listeners can sync any podcasts automatically to a Windows Phone handset if the audio files are saved in a folder on the corresponding PC.
Getting updates for the desktop app has also been simplified over the preview versions, updating more in the same fashion as other applications. Rather than having to head over to WindowsPhone.com to grab the updates manually, users will enjoy having an automatic notification appear when updates are available, which can then be downloaded via an "update" click in a nearly hands-free manner.
The ability to sync from various libraries was also expanded quite a bit, giving users more flexibility over previous versions. Rather than being limited in what libraries can be synced, users can now sync any library or folder on their PC to their phone, including those located on external drives. Those three aside, the rest concern bug fixes, which Microsoft says was based on feedback it received from the various preview versions of the app.
SOURCE: Windows Phone Blog