Microsoft responds to questions over Office 2013 transferability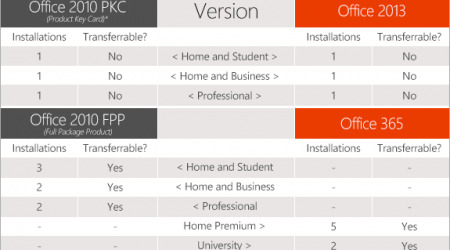 On Saturday, we reported on the Office 2013 license, and its altered EULA over Office 2010. Many users have questioned whether Office 2013 can be reinstalled on a new computer when the user upgrades, or if the license is not transferable. Earlier today, Microsoft officially responded to these questions, assembling a chart and addressing the most common concerns regarding the issue.
As you can see in the graph above, Office 2013 features the same rights as the Product Key Card (PKC) version of Office 2010, but not the Full Package Product (FPP). Office 2013 suites are not transferable, and can only be installed a single time, meaning those who upgrade their computer or otherwise gravitate to a new machine will need to buy a new license. This applies to the Home and Student, Home and Business, and Professional versions.
In comparison, the FPP version of Office 2010 is transferable across all versions, with each allowing at least 2 installations. Home and Student allows three installations, while Home and Business and Professional allow for two each. Microsoft stresses that Office 2013's transferability is consistent with the PKC Office 2010, which is says most consumers chose over the FPP.
Meanwhile, Office 365 Home Premium is transferable and allows for five installations, while University is also transferable and allows for two installations. This makes the subscription version of Office the only option for those looking to use the suite across multiple devices, whereas Office 2013 can only be licensed to a single computer and cannot be transferred regardless of which version you have. Says Microsoft, if Office 2013 is licensed to a computer that fails under warranty, it can be replaced by contacting the company.
[via Office]