Microsoft Plans For 30 Million Windows Phone 7 Devices To Be Sold By End Of 2011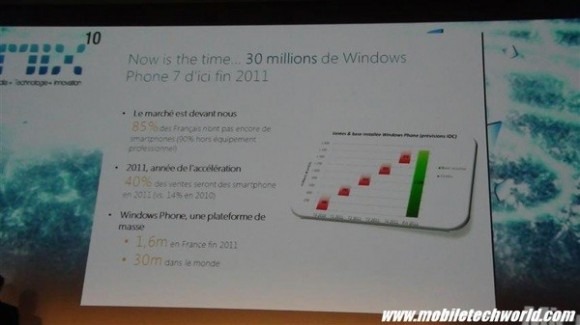 Can we say "lofty?" We've barely got developers getting their hands on Windows Phone 7 prototype devices, and here we are seeing Microsoft setting a goal for themselves that, for all intents and purposes, might seem pretty far-fetched to anyone not on the Windows Phone 7 team. Sure, there's some glaring reasons why that may not (probably won't) happen, but at least we have to give this one to Microsoft: they sure know how to dream.
Microsoft took the time to show off some slides over in Paris yesterday, at a ReMix event, and one of them shows that the Redmond-based company wants to sell 30 million Windows Phone 7 devices by the end of 2011. These are based on IDC projections, which seem to suggest that they're as crazy as Microsoft. The truth is, there aren't any devices slated to be released to the public for several months (by the end of the year, and some time probably in the holiday season), which gives Microsoft only a year, give or take a few months, to reach that lofty goal.
Probably the most interesting part of that, though, is that these figures aren't including other "Windows Phone" devices, such as the Kin One and Kin Two. Now, we're not saying that this would necessarily tip the scales in favor of Microsoft's goal, but it's surely putting quite a big weight on the Windows Phone 7 development teams out there. They better be making one of the best mobile Operating Systems to date, put together with hardware manufacturers that actually create outstanding hardware. And no, that isn't the LG Panther.
[via MobileTechWorld]