Microsoft Nokia 216 feature phone unveiled with dual SIM support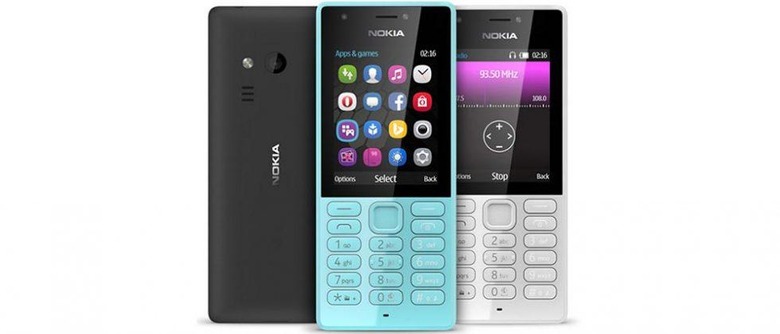 Microsoft has announced a new feature phone, the Nokia 216. As with other feature phones, you're getting something less than a smartphone, but with more modern specs than feature phones of old and the perks these phones offer: long battery life and low cost, namely. The Nokia 216 looks similar to other Nokia feature phones that have been launched in recent times, including a clean design, pastel colors, and small size.
The Nokia 216 features a modest 2.4-inch QVGA display, as well as a very modest VGA-resolution 0.3-megapixel camera on the front and the same camera on the rear. This phone only operates on 2.5G networks, obviously targeting emerging markets; its benefits lie in the 24-day standby time and up to 18 hours of talk time.
The phone also boasts an FM radio and dual-SIM support; it runs the Series 30+ software and has a surprising amount of storage: up to 32GB via microSD card. There's only 16MB of RAM, though. Though it is a feature phone, it does have Internet capabilities, including the Opera Mini browser. There are also basic apps like an alarm clock, calendar, calculator, reminders, a recorder, notes, flashlight, and similar.
Finally, users can share files locally with each other using "BT Slam." The Nokia 216 will be launching in India next month for 2495 Rs. It isn't clear whether any variants of this feature phone will be offered outside of India.
SOURCE: Microsoft