Microsoft LifeCam Studio HD webcam launches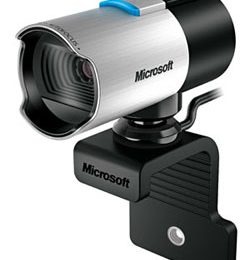 Microsoft has all sorts of peripherals to its name with lots of mice, keyboards, and webcams to choose from. The company has unveiled its latest webcam called the LifeCam Studio that offers up to 1080p resolution and lots more. Microsoft says the camera is the next best thing to being there when you want to video chat with someone.
The camera has a sensor that is twice as large as the sensor on 720p webcams and can adapt to changing light conditions for optimum performance. The camera is also fully compatible with video chat for Windows Live Messenger 11. The camera has a swivel mount that lets it pan 360-degrees for optimum placement and an elongated hood.
Other features include TrueColor technology to make colors accurate and lifelike in different lighting conditions. Microsoft also uses ClearFrame technology that helps provide smooth video in low light. The LifeCam Studio will sell for $99.99, can be ordered on BestBuy.com now, and will hit stores later this month.