Microsoft Launches Xbox Live Community Calendar App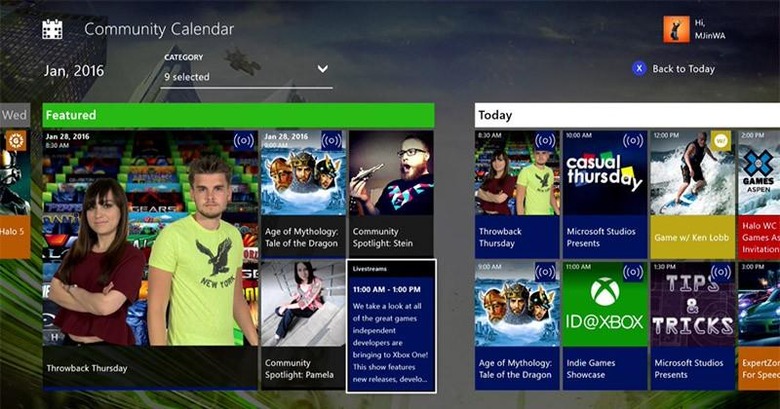 Today is the start of a new month, and for owners of Microsoft's two most recent consoles, that means you get free games. Thanks to the wildly successful "Games with Gold" program, this is a pretty regular occurrence. You might think that this is the only regular event that happens on the Xbox, but as it turns out, there's so much more. And Microsoft is rolling out a new way to let you know about community events.
If you wanted to keep up to date on Xbox Live events, you needed to utilize a variety of sources. But now Microsoft is rolling out a new Community Calendar app for the Xbox One. With this, you can not only see when the new Games with Gold are ready for download, but you can see a host of other community events as well.
Have you ever wanted to game with celebrities and game developers? Maybe you've wanted to chat with other gamers to discuss strategies and the latest news. These types of events and more will now show up within the calendar app. Here's the full list of what you'll see:
Community Spotlights: Meet your community managers and fans who are doing cool things in the community.

Game with Fames: Tune in to the stream for your chance to play with celebrities and industry leaders. Join in and play, chat and ask questions, or just watch the fun unfold.

Gatherings: Streams hosted by the community, for the community. Xbox Ambassadors and community managers put on Gatherings for you to learn game strategies, meet new players and talk about the latest news.

Livestreams: Tune in to see community managers and guests showcase awesome games.

Tournaments: Find major eSports events and broadcasts to watch.

Game Launches: Now you can see the launch dates of games coming to Xbox One, all in one place.

Free Stuff: You're a part of the Xbox community, and we love having you here, so have some free stuff. Here you'll find Free Movie Weekends, Games with Gold and Free to Play games.

Challenges & Contests: Cool stuff for you to earn or enter to win.
This is the sort of no-brainer idea that we should have had long ago. It'll save people a lot of time when they want to search for release dates and community events. The app is available right now, so go download it.
Source: Xbox