Microsoft Hotmail And Outlook.com Outage Continues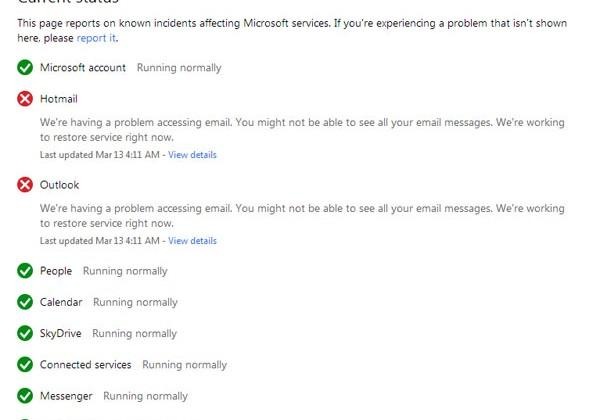 If you're a user of Hotmail or Outlook.com who is waiting for an important e-mail message, we have some bad news for you. Microsoft currently lists both Hotmail and Outlook.com as being down. That means that users of both of those services won't be able to log into accounts.
Microsoft so far has detailed the Hotmail problem stating that "we are having a problem accessing e-mail." Microsoft says that you may not be able to see all of your e-mail messages and that it's working to fix the service right now. That update was made as of March 12 at 4:35 PM.
Microsoft has also noted that it's taking longer to fix the problem and it hoped and that it will provide an update by March 13 at 8:12 AM. Microsoft also points out that it's having the same problem with Outlook.com and is working to restore service. The first update for Microsoft for Outlook.com was posted March 12 at 4:35 PM.
Microsoft isn't offering any hard details on the Outlook.com problem either simply stating that fixing the problem is taking longer than it had hoped. Microsoft says users can expect an update by 8:12 AM today. Microsoft is offered no official comment indicating what may be causing the outage. With all the hacking that has been going on lately, you have to wonder if the service interruption has anything to do with hackers. At this point, there is no indication that Microsoft has been the victim of a hack or that any security issues have caused these outages.
[via Live.com]