Microsoft HoloLens brings Yu-Gi-Oh to (mixed) reality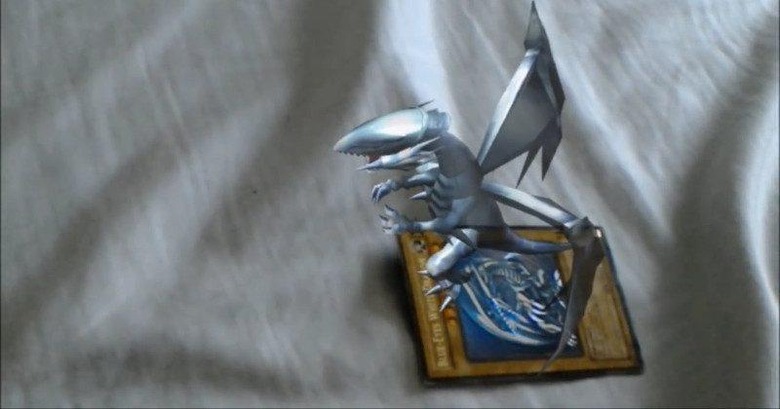 Collectible/Trading Card Games have long been popular even before the mobile gaming revolution, but while most of the franchises n the West, like Magic The Gathering, are your run of the mill card-based games, in Japan they have taken a life of their own. There, CCGs like Yu-Gi-Oh extend to multimedia, especially manga and anime, that portray the game as more than just cards. The advent of virtual and augmented reality gear offers the opportunity to make those fantasies real, like this "real-life" Yu-Gi-Oh made possible by the Microsoft HoloLens.
This isn't of course, the first nor the only attempt at bringing such fantasy cards to mixed reality. Oculus also teased its own take on delivering a real-world experience of playing card games like Yu-Gi-Oh. Of course, being a virtual reality platform, its limited to expressing that in a totally fabricated VR world, akin to when the characters in the anime series were sucked up into a similar VR world.
In contrast, the Yu-Gi-Oh for HoloLens project naturally mixes real and augmented reality, making use of real-world Yu-Gi-Oh cards and the headset to bring the monsters to life. Unlike simple AR implementations of the past, the system isn't beholden to QR codes on stickers or pieces of paper. As if by magic, the creatures in the cards spring to life just by looking at them, and they also follow whichever way the card turns. It's still a far cry from the life-size, sometimes gigantic monsters in the mythos, but it's a positive start.
Gold Team Productions, the developers behind this HoloLens incarnation of Yu-Gi-Oh, credits the Vuforia VR SDK as the tool that made it possible. Vuforia just recently added support for the HoloLens, making it possible to craft experiences like this. As for the game itself, it will supposedly become playable, including online multiplayer dueling, when Update 3 goes out in the still unannounced future.
Of course, you'll need a HoloLens to feel this new reality, and that, sadly, isn't easily available.
VIA: WinBeta