Microsoft has a new Nokia phone: the entry-level Nokia 215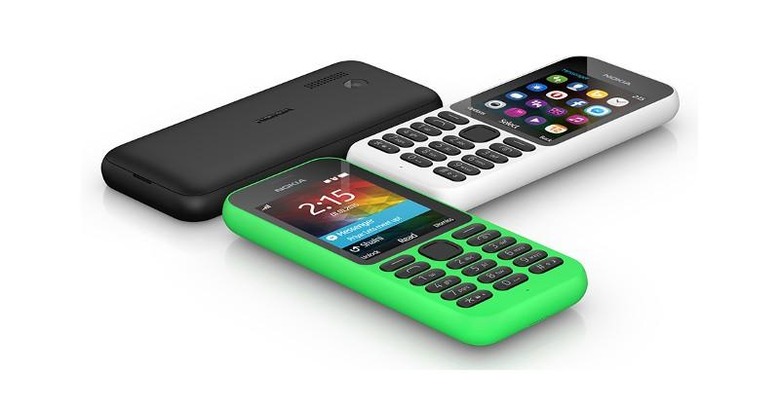 Apparently, Microsoft hasn't done a lot of things. It hasn't completely thrown out the Nokia name for mobile devices. It hasn't given up just yet on feature phones. And it hasn't ported Windows Phone down to that tier, if that's even possible at all. So it is both surprising and yet at the same time expected that the tech company is now unveiling it latest feature phone. Perhaps the last to bear the Nokia name as well. But besides that name, Microsoft wants you to remember that this is the cheapest Internet-connected smartphone in the market.
And by cheapest, they really mean it. Before taxes and subsidies, the Nokia 215 will only cost $29. Of course, at that price, do not expect it to come with even a fraction of the features in the lowest-end smartphones, but those who prefer the simplicity, hardware keypad, and longevity of feature phones will be at home here, with some added bonuses.
Those bonuses come in terms of connectivity. Internet connectivity to be exact. Though it doesn't cover 4G LTE naturally, there are still some use for the Internet on this small phone. For one, it comes with Facebook and Messenger pre-installed so you can stay in touch with your social circles. It also has Bing and MSN Weather for other cases. Fortunately, the browser installed here is the space and data efficient Opera Mini. Microsoft is also advertising the use of its SLAM tech, which is like tapping in NFC, but using Bluetooth, and without actually slamming phones into each other.
The Nokia 215 comes in single and dual SIM flavors, as well color options of black, white, and bright green. The 2.4-inch screen has a QVGA resolution and it does have a VGA camera on the back, amusingly beside the speaker grill. The 1,100 mAh battery is advertised to last 29 days on the single SIM variant and 21 days on the dual SIM version. Unsurprisingly, the phone will roll out first in Middle East, Africa, Asia, and then Europe, starting in the first quarter of this year.
SOURCE: Microsoft