Microsoft Hardware brings on Sculpt and Wedge mobile keyboards for tablets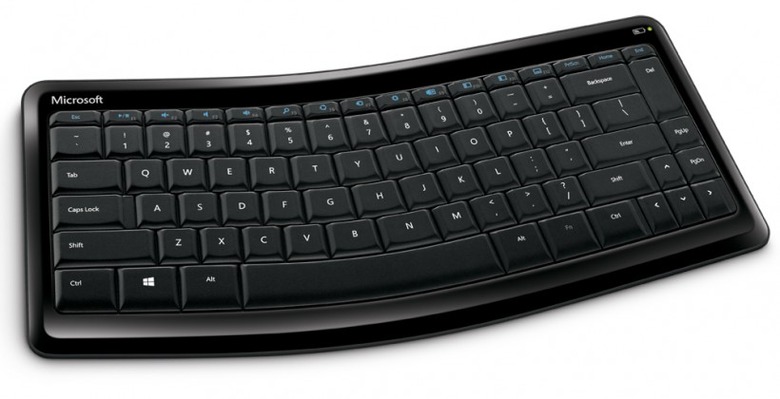 If you have issues typing on a tablet's touchscreen, then Microsoft has a pair of new keyboards aimed directly at you. The company revealed the Sculpt and Wedge mobile keyboards today, two new travel-friendly keyboards meant to make typing on the go a smoother experience. Both keyboards have a lot in common, but there a few key differences between both that consumers will want to pay attention to.
For instance, the Sculpt (which you see pictured above) sports a curved build that fits the natural angle of your wrists and hands better than a more traditional keyboard, just like other models in Microsoft's Comfort Curve line. Of course, we've seen plenty of curved keyboards throughout the years, but the difference here is that the Sculpt is less than three-quarters of an inch thick. The Sculpt uses Bluetooth to connect to your tablet and is powered by two AAA batteries. Microsoft says that those AAA batteries can power the Sculpt for up to 10 months, provided you remember to turn the keyboard off when you're done using it. The Sculpt weighs in at just over a pound, and with a price tag of $49.95, it sounds like a pretty good choice for those who are fed up with typing on a touchscreen but don't want to break the bank on a physical keyboard.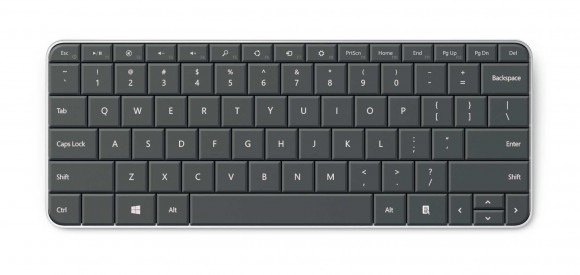 On the other hand we have the Wedge, which comes in a more traditional rectangular shape. Like the Sculpt, it connects to your device through Bluetooth, but unlike the Sculpt, it has a special cover that does more than just protect from scratches. Not only does the cover power down the keyboard when you snap it on, but it also folds into a tablet stand. With the multipurpose cover, we're tempted to argue that the Wedge is the better choice for those who type on a tablet frequently, but that additional functionality makes the Wedge a bit more expensive than the Sculpt – Microsoft gives this one an estimated retail price of $79.95. The company didn't make any promises about the battery life for the Wedge (like its more curvy sibling, it uses two AAAs), but we have a feeling that it'll last long enough if you're remembering to replace the cover when you're done.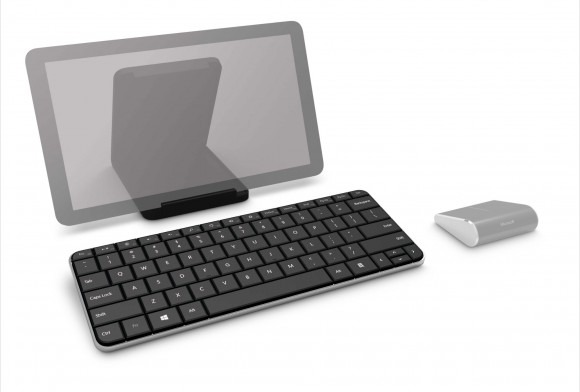 In order to use the Wedge, you'll need to be running Windows 8, Windows RT, Windows 7, or Mac OS X v. 10.6-10.7. You'll have a little bit more leeway with the Sculpt, as it's compatible with all of the operating systems the Wedge is, along with Windows Vista and Mac OS X v. 10.4-10.7. Both keyboards come equipped with a set of Windows 8 hotkeys that allow you to "quickly search, share, or access your devices, settings and Windows Start screen with the tap of a finger," so if you're planning on upgrading to Windows 8 when it launches in October, these might be worth checking out. Unfortunately, Microsoft hasn't named a release date for either of these yet, instead only very vaguely stating that both are "coming soon" to the Microsoft Store and other unnamed retailers.
Both of these keyboards seem to be excellent alternatives to tapping away at the touchscreen, and most importantly, they're both compact. Their small sizes will undoubtedly get some attention when it comes to finding a physical keyboard that still allows for easily getting stuff done on the go. Check out our image gallery for more pictures of the Wedge (along with its sleek-looking cover), and be sure to keep an ear to SlashGear – we'll have more information on these keyboards when Microsoft decides to share it!